Red Full Moon – August 13th
The August Full Moon is sometimes call the Red Moon because it appears reddish as it rises through the warm and steamy summer haze. It's a time when the corns and grains are ripening and the streams are filled with fish. For those of us who plant our seeds or cast our fishing lines in the business world, it's a time of preparing to see the fruit of your hard work. You can put life into action. Make plans. And, because this is an Aquarius Full Moon, those plans can be as wild as you are capable of making them. Think globally. And, think of the greater good. You're not just feeding yourself, you're feeding your neighbors – mentally, physically and/or spiritually.
Youngberg Hill is a perfect place to see the Red Full Moon.  For the guest staying overnight at Youngberg Hill Inn they are in for a  special treat as on a typical night "its so quiet you can hear the stars"!  No matter where you are look up and be amazed at this wonderful sight.  Toasting with a glass of Youngberg Hill Pinot Noir is highly recommended!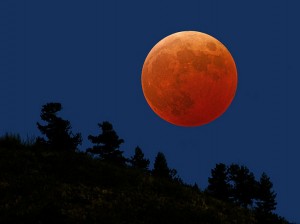 ---