Our guests this morning enjoyed one of our signature entre items, Cornish baked eggs. I was fun discussing the vineyard work we were doing at the time, a wooly bud spray, while they ate breakfast and enjoyed the view of the Cascades.
We are putting the finishing touches on the winemaker dinner this Saturday night. It promises to be a great evening.
Barrel tasting the 2008s for the last time this week to make final selections of barrels for our Barrel Select bottling and decide whether to leave it in the barrel a little longer.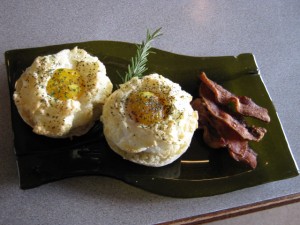 Note the plate is melted glass from recycling our wine bottles.