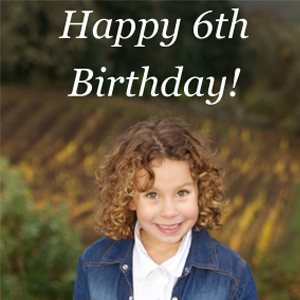 It's hard to imagine how 6 years have gone by since Aspen arrived and blessed us.  I have described Aspen many times as "the one who saved my life."  When moving to Oregon over 9 years ago and embarking on this amazing adventure at Youngberg Hill, I was Super Woman.  I tried to do it all; family, innkeeping, housekeeping, marketing, lawn maintenance, etc.  I remember becoming ill in year three.  God, in his ultimate wisdom, got me pregnant (no, I'm not talking the immaculate conception, but it wasn't planned). I knew, without a doubt, I had to hang up my Super Woman cape and accept that while I could do it all I shouldn't.  I hire help with all the things that I had been doing and allowed myself to trust in those decisions.
Since Aspen joined our family, everything in our  lives have changed for the best.  We carved out our own family space on the hill. We hired wonderful staff to be the Innkeepers, housekeepers, tasting room manager, and so on.  In the past 6 years I have been able to look over the weeds and see the direction the company needed to move into.  We are now right where I always wanted us to be.  We are a family having a farm, wine, vineyard, and hospitality experience that is exceptional in every way.  We are having fun and loving what we do.  Yes, Aspen saved my life and she also brings Joy into everyone's life!
Come visit her soon!
~Nicolette