Oregon Wine Country Bike Routes
The Willamette Valley is one of the most gorgeous wine regions in the country. Known for its picturesque vineyard views and sweeping country roads, you won't believe the area's natural beauty until you see it. If you're an avid biker, there's no better way to explore our region than by following these Oregon Wine Country bike routes. For more recommendations on the best ways to discover McMinnville, Oregon, access your free copy of our Vacation Guide today.
The 5 Best Oregon Wine Country Bike Routes You Need to Experience
Are you ready to bike through the heart of Oregon's wine region? Bring your own bike or pick up a local rental at either Waterfront Bikes or Bike Peddler and get ready to ride!
NOTE: Please enjoy the vineyards, but be sure to drink and bike responsibly. Youngberg Hill does not promote biking under the influence. 
1. Muddy Valley
The Muddy Valley Route is a 26-mile loop starting in downtown McMinnville. The trail is moderately difficult and takes about two and a half hours to complete. Along the way, make a pit stop at Youngberg Hill and sample some of our award-winning wines. If you're hungry, don't miss the Bellevue Country Store for gourmet snacks and Stumptown Coffee.
You'll also pass by Yamhill Valley Vineyards and Maysara Winery, two other estates specializing in Pinot Noir.
2. Riverside
If you're looking for an easy evening cruise, Riverside Drive is perfect for you. This seven-mile ride starts and ends at Joe Dancer Park. The route is ideal for those who want to bike in the region without spending a whole day on the road. We recommend stopping at Evasion Brewing on Saturdays to sample their gluten-free brews.
3. Abby Road
The Abby Road bike trail is great for experienced cyclists. Follow the route to the 82-acre Abbey Road Farm, the trail's namesake, and enjoy a glass of wine in their tasting room. You'll also want to stop and sip (or just admire the view) at the Stoller Family Estate and Sokol Blosser Winery, two more fantastic wineries along the Abby Road pathway.
4. Latham Loop
This 32-mile scenic bikeway is not for the faint of heart! The Latham Loop is a mostly moderate trail, but the first half of the ride contains some fairly steep climbs. To avoid fatigue, plan to stop at Youngberg Hill, Coeur de Terre Vineyard, and Coleman Vineyards. Take a tour of the properties and even order a bottle of your favorite wine to be shipped back home!
5. Woodland Loop
This 20-mile bike route is anything but easy. The steep hills throughout it are guaranteed to get your heart rate up! Admire the unforgettable vistas and rest your legs at the WillaKenzie Estate or Anne Amie Vineyards as you bike through the valley.
End Your Ride at Youngberg Hill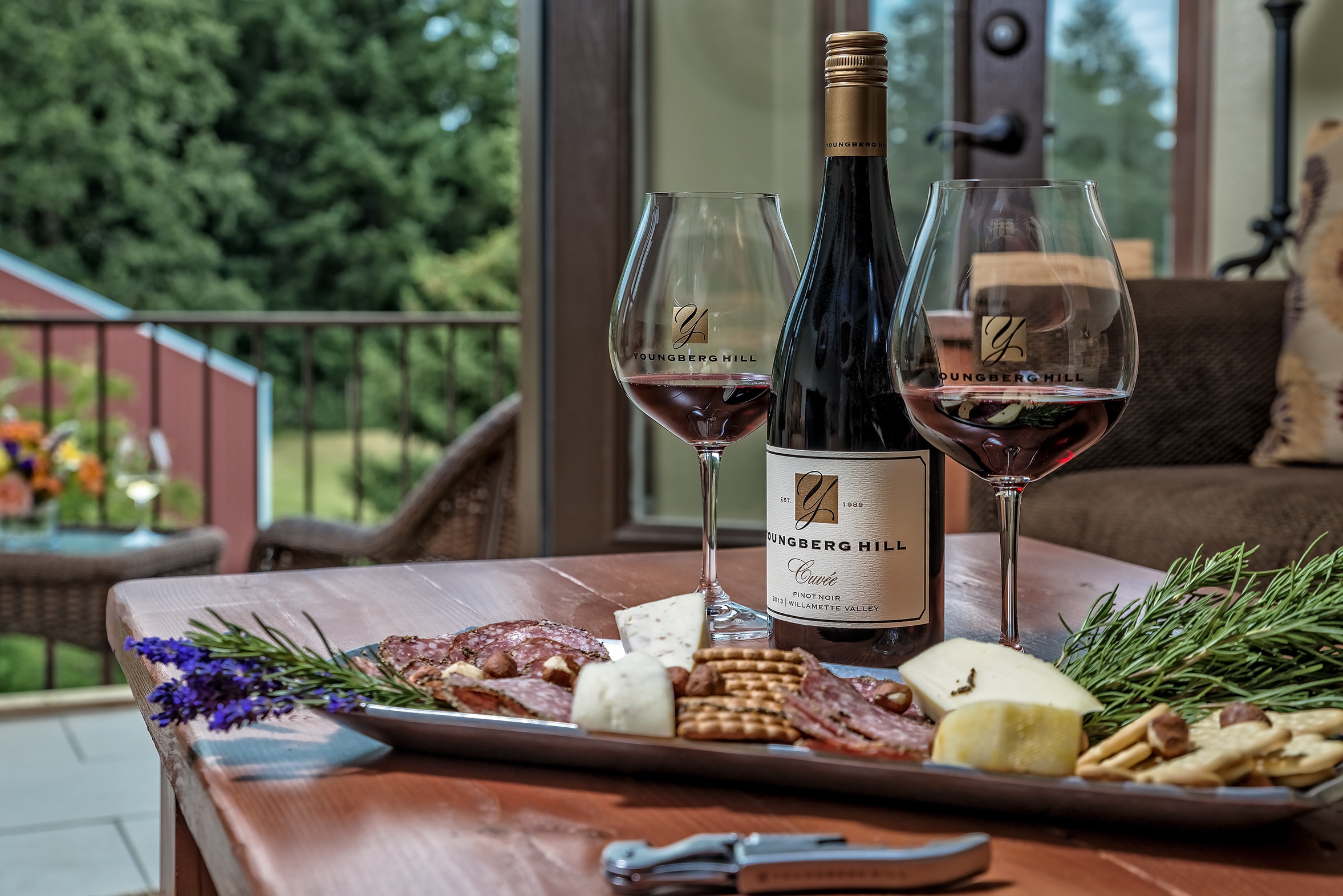 Finish your bike tour on a high note at Youngberg Hill vineyard, located directly on the bike route map. Many bikers have tried to climb to the top of our hill, but few have been successful. Do you have what it takes to pull off your "Everest" moment?
When you arrive, sip a glass of our renowned Pinot Noir and enjoy the beautiful landscape of Oregon's Wine Country. If you want to try more than one of the area's bike routes, stay in one of our upscale guest rooms for the night. Treat yourself to premium amenities such as gourmet breakfast, an in-room fireplace, and a private deck available in select units. Need even more reasons to stay? Guests of the inn also enjoy 50% off a wine tasting in our world-class tasting room. 
Are you ready to take on the challenge? Check out the map below and start planning your Oregon Wine Country bike route today!
There are over 150 wineries, tasting rooms, and vineyards within 20 minutes of Youngberg Hill. — Visit willamettewines.com
Travel Yamhill Valley — yamhillvalley.com
McMinnville Downtown Association — downtownmcminnville.com
Travel Oregon — traveloregon.com
Cycling Wine Country — tommysbicycle.net