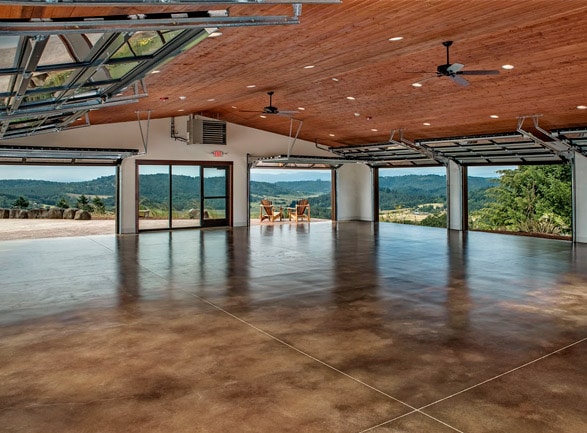 Youngberg Hill is a great location that can host events for birthdays, anniversary, graduation, private dinners, holiday parties or any group event. We can accommodate small groups or large groups of up to 350 and work on an individual basis to meet all your needs. Our event building offers the flexibility of being fully enclosed and protected from the elements to an open outside event or a combination of the two. Take advantage of the magnificent natural setting by way of eight glass doors that open up to the views that the property commands, while providing full shelter if inclement weather arrives, with the ability to transition quickly to indoor use.
Set Fee Includes: Event building, tables, chairs, 3 bistro tables, 2 wine barrels, A/V equipment for photos or video, speakers and microphone, set-up & take-down, 3-hour active time for your event with 1 hour set up & tear down..
Private events can be scheduled up to 4 months in advance on weekends from June – October. For any other time of year or during the week we can schedule events up to a year in advance.
Click here to let us know about your event and for additional information.
Corporate Events
We invite you to host your next event in our new Event Center. Located 1 hour from Portland, we offer a range of unique options from personalized experiences.
We have an expansive indoor/outdoor Event Center that will allow for year-round use.  We can accommodate up to 150 for an indoor seated dinner or up to 300 guests both indoor and outdoor.  Because each event is unique, we look forward to working closely with you to create a great day. Breathtaking views, award winning wines, and our intimate Inn is the perfect setting to create your unique day.
Standard Corporate Package
Monday – Thursday events, event building (4-hour event), one hour set up and clean up time, 60″ tables and chairs, 3 bistro tables, 2 wine barrels, A/V (for photos, presentations and videos), microphone & speakers. Inn rooms are optional.  Wine & wine experiences can be added.
Looking for something extra special?
Did you know that Youngberg Hill offers personalized labeling? Your next corporate event will be first-class with a personalized label on your wine.  Personalized labels can be created yourself or through a few recommended websites. We even offer specialty sizes, too. There are limited quantities. This is a terrific opportunity to impress your guests. Contact us to discuss your options.
Need Something Else?
Simply email us and let us know your specific details.