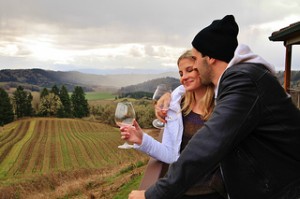 Yamhill Valley is a fantastic place to visit.  Not only are you right in the middle of Oregon's famous wine country, but also several of the 7 Wonders of Oregon are just down the road from here.  In fact, our Inn can be made a base of operations and your perfect getaway during your visit to the Willamette valley.
Here are eight great reasons to visit Yamhill Valley:
Location, location, location
The Inn is located right in the midst of Yamhill Valley in the heart of Oregon wine country – which is like Tuscany transplanted to the US.  We are not only a winery in our own right, but are surrounded by local wineries.  Additionally, our location feels secluded, but it is just a ten minute drive to the city of McMinnville – just in case you forgot any essentials when you were packing.
Wine (of course!)
Being in wine country means you have access to over 300 local wineries.  We offer many packages which include going out and exploring wineries throughout our fantastic valley.  Additionally, you can go out and explore on your own – and there are local car services that will get you back to the Inn safe and sound.
Local artisans
Our area is filled with artists.  Some chose the art of winemaking or of preparing amazing food.  Others use their skills to create wonderful paintings, ingenious crafts, incredible music, and more.  McMinnville celebrates local artists in their stores, at Farmer's Market and during the Art and Wine Walk on the third Saturday of each month.
Craft beer
Oregon is known for many things, an organic lifestyle, amazing wine, foodies, and great beer.  Many local restaurants serve craft beers produced in locations all around Oregon.  There are local breweries which serve their handcrafted beers.  If you like beer as well as wine, we've got you covered.
Food, glorious food
Our area is a foodie's dream.  With restaurants like Bistro Maison, the Joel Palmer House, and Nick's Italian Cafe, there is no way you will go hungry.  Not only are there plenty of delicious places to eat, they stick with the Oregon philosophy of working with local ingredients.  This means what they serve is amazing and fresh.
Hiking and biking
Our recent article on hiking and biking in the Willamette Valley gives plenty of information on this topic.  There are native wetlands, rivers, and more to see on your hikes.  We also offer a bike tour package which give you an opportunity to cycle through wine country and take in the scenery.
Serenity
The views from the top of our hill are enough to allow anyone some time to reflect.  Youngberg Hill Vineyards and Inn are away from the hustle and bustle of the main city and we boast some of the best views in the valley.  The view of sloping hills, vines rustling in the breeze, and the mountain range in the horizon promote calm.  It gives everyone (including us) the long view of life.
Easy access to much of Oregon
Serenity may not be what you want all the time.  That's fine.  There are plenty of great locations that are only an hour or two away from here, like the Oregon coast, Portland, and the Columbia Gorge.  The famous Powell's City of Books is almost exactly an hour from here – and Voodoo Doughnuts is right next door.
We love our local area.  The peace, the easy access to excitement, and – of course – the amazing wine are all huge draws for us.  COMMENT BELOW: What makes you excited about visiting Oregon wine country?