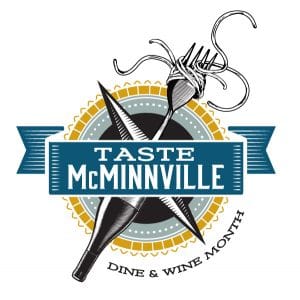 February is Taste McMinnville Month and a great time to break up the winter dulldrums wherever you might live. Why not make it a new and unique experience in the Willamette Valley and more specifically, McMinnville. Why in February? It is Valentine's Day celebrations all month. There are wine and chocolate pairing s across the valley all month. The landscape in the valley is lush and green. There is less tourism traffic to get around in. There are great opportunities to save money on travel and lodging that time of year. And February, like every month, is a great time to be enjoying Pinot Noir in the valley.
This year is even a bigger opportunity to do so in McMinnville. This February McMinnville will be celebrating Taste McMinnville Month featuring craft beverage producers of wine, beer, and spirits; along with all the fabulous restaurants that reside in the city. It will be a great time to experience all that McMinnville and the surrounding community have to offer in culinary bounty. McMinnville is the heart of the valley, has a great, thriving downtown shopping scene, and plenty of art and cultural activities to enjoy including music events at many venues and the Gallery Theater.
McMinnville reminds me of Calistoga thirty years ago. Back then, it was an outpost for most of the Napa wine tourism because it was so far away from San Fransisco. Today it is the epicenter of the valley. While McMinnville is farther southwest of Portland (35 miles), it is far from the maddening crowd, in the heart of the Willamette Valley, and half way between Portland and the coast.
McMinnville also reminds me of Beaune in Burgundy, France. As in Beaune, McMinnville lives and breaths the wine country, and the vineyards and wineries surrounding it. It has embraced the industry as part of it's culture and reflects that in the multitude of dining experiences.
Come check it out this February!  Click here for more details.