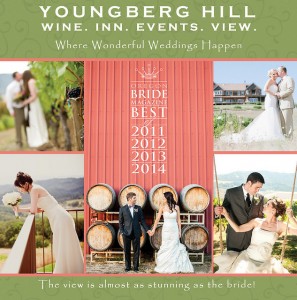 Here in the Willamette Valley we have some of the most beautiful wine country in America. This means that any couple planning a wedding or elopement here in wine country needs to make sure they get extra special shots that encapsulate both where they are and the love they have for one another. As any soon-to-be-married couple may guess, it's important to discuss such special shots with their photographer. That's why we have provided twelve shots to consider for your wine country wedding.
The Long Shot: Make sure to capture a sweeping shot that includes the newlyweds and the beautiful scenery that surrounds you.
Candid Shots: We know, we know, you're not just hanging out with your significant other, but the appearance of a candid shot has a wonderful charm that should be captured.
The Dress: There is something incredibly beautiful about a dress juxtaposed with the natural greenery of a vineyard.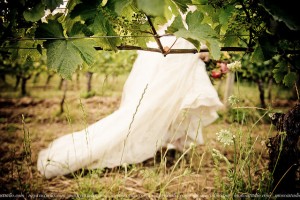 The Bride: The lovely lady is the jewel of the event. Make sure you capture her with the gorgeous wine country landscape.
The Ladies and the Gents: Your support group – meaning your bridesmaids and groomsmen – should be captured amongst the surrounding greenery.
The Loving Shot: Your wedding or elopement is a celebration of your love and commitment to each other. Make sure to get some gorgeous shots that show this.
The Out of Focus Shot: For so many wedding photos, the couple is in full focus. It can be fun to give the surrounding scenery a little air time too.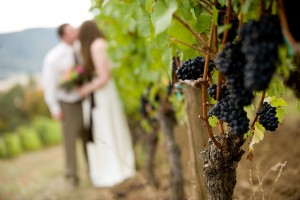 Something in Black and White: There is something classic and beautiful about black and white photography. Make sure you get a wedding or elopement shot in black and white as well as in color.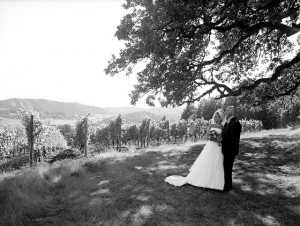 Candid Shots of Other Members of the Wedding Party: Your flower girl, mother in-law, and other members of the wedding party will have wonderful moments that you will want captured. Be sure to set your photographer loose among the wedding party to get these moments.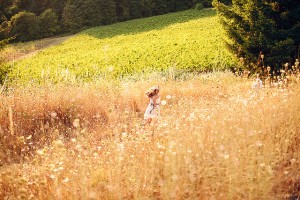 The Rings: A winery is the perfect place to get a wonderful shot of the rings along with a cork, bottle, or vine.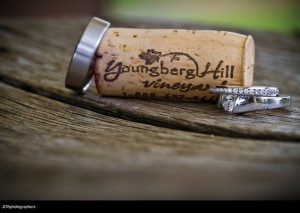 Night Shots: Your event may just go into the night. Be sure to capture your love against the stars.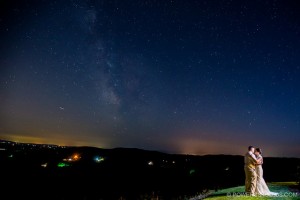 A Fun Shot: Be sure to have a great time during the shoot! Your wedding or elopement is an amazing celebration of your love. Make sure to get some fun moments in there too!
These are just some ideas that the brides and grooms who we have had the honor to host here at Youngberg Hill have had. Which shots will be the most important in your wedding? Let us know!