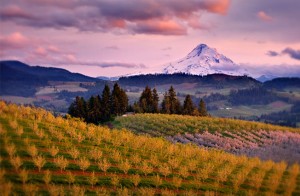 More than 300 wineries and tasting rooms call the big and beautiful Willamette Valley home.  Find yourself surrounded with beautiful vistas of the Cascade Mountains and the Willamette Valley as you wind through the scenic backcountry roads on a tour of Oregon's expansive wine country.  Fall is quickly coming to an end, and the holidays are fast approaching.  In wine country, that means another year of harvesting is done, and it's time to kick back and celebrate wine country style.  November begins a special season in Oregon's wine country; it ushers in a season of magical, quiet beauty to the Willamette Valley.  For the Willamette Valley wineries, November is a time to gather with friends, family, and guests alike, when they open their door to celebrate  another wine country Thanksgiving.  This year, kick off the holiday season right, and join Youngberg Hill Vineyards and other Oregon wineries in celebrating the 31st annual Wine Country Thanksgiving with special tastings, food pairings, live music, and more.
Once you've had your fill of savory holiday meals, and maybe even a few Thanksgiving leftovers, it's time to head out to a Wine Country Thanksgiving, where you'll enjoy three days of special wine-themed events right after Thanksgiving.  Starting on Friday, November 29th, over 160 of the wineries in the Willamette Valley will open their doors to celebrate with you.  Special activities will vary by winery, but all will feature a weekend of wonderful wines and plenty of holiday fun.  If you're a fan of smaller Willamette Valley wineries that don't have tasting rooms, this is a great chance to sample some of their wines and explore their winery, as it is the only time that some of the wineries are open for drop-in visitation.  This one of a kind experience is a great time to sample new wines, maybe to find a new favorite, or to find that perfect wine for your holiday meals.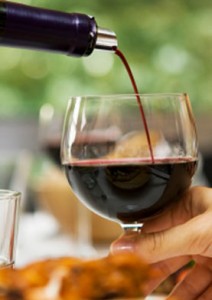 Plan your route through wine country ahead of time with a wonderful guide produced by the Willamette Valley Wineries Association so that you get the most out of your weekend.  In the Wine Country Thanksgiving guide, you'll find information on what to expect at each winery you plan to visit, as well as some possible itineraries to help guide you through the different regions of Oregon's wine country.  No matter where you choose to visit, this is a one of a kind opportunity to educate your palate and learn about how Oregon's stellar wines are grown and crafted. While in Oregon's wine country, you must taste the signature Pinot Noir  wines produced here, but don't be hesitant to try something new, either!  At Youngberg Hill Vineyards, we look forward to sharing with you the love and dedication that we put into our holistic farm and naturally-produced wines. Consider making your visit to Oregon's wine country that much more spectacular by taking advantage of one of our many packages when you stay at Youngberg Hill Vineyards & Inn.  We can't wait to see you at this year's Wine Country Thanksgiving!