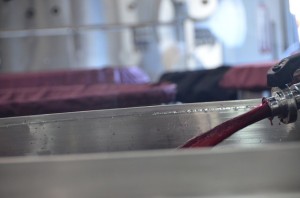 Winemaking is more than the process of harvesting grapes and squeezing out the juice. Once the grapes have been harvested, there is still plenty to do. One action is called "wine racking."  Here's a quick rundown of what this is, and why it's so important during the process of winemaking.
The term racking means moving wine from one vessel to another. This can be from tank to barrel, barrel to barrel, and barrel to tank. Racking can be done to serve a number of different purposes. It all depends on where we are at in the winemaking process.
The first racking is generally done shortly after initial fermentation of sugar to alcohol is complete. This separates the wine from the skins, seeds, dead yeast cells, and other particles that settle to the bottom of the tank. Red wine typically goes into a barrel at this racking.
Red wines are commonly racked on other occasions during the wine aging process. It all depends on the preferences of the winemaker and the grape varietal.
After the wine has finished secondary fermentation (this is malolactic fermentation – which means converting malo acid to lactic acid), it may be racked again. The purpose of this racking is to further clarify the wine by taking the wine out of barrel, cleaning the barrel of the sediment, and then putting the wine back into barrel.
This is the point at which wine-making becomes both a science and an art – with a little magic thrown in. The winemaker must have an intimate knowledge of of the fruit from that particular vineyard. He must know the age of the vines and impacts of terrior. Experience and an almost sixth sense will help him tease out the specific nuances of that vintage and see how the wine is aging in the barrel. All of these factors play into the decision of whether to rack or not.
The final racking consists of moving the wine from barrel into the tank for settling before bottling. You can learn much more about racking and winemaking by setting up a tour here at Youngberg Hill.
What kind of winemaking details are the most interesting to you? Let us know in the comments below.