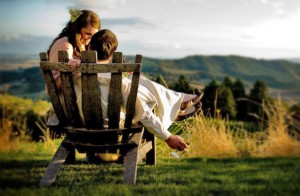 Statistically, 33 percent of engagements happen during the holiday season.  With all of those newly engaged couples out there, whispers of wedding planning are on the lips of new brides-to-be everywhere, and the intense search for the perfect wedding location begins.  Some brides have been dreaming of their venues for years, and some have no idea where to start.  Choosing the perfect location for your wedding is everything; it sets the entire tone for the rest of the wedding, and helps to direct subsequent decisions for the big day.  With approximately 500 wineries in Oregon, it's easy to find a beautiful facility for a vineyard wedding, but it's not very often that you find such an exquisitely beautiful and exclusive location for your Oregon Wine Country wedding as Youngberg Hill Vineyards.  Nestled among the picturesque, undulating hills of the Willamette Valley, Youngberg Hill Vineyards, nestled atop the Hill of our family-run farm, sets a stunning scene for your Oregon wedding that can't be beat.
Oregon Wine Country weddings
Wineries and vineyards have long been associated with notions of romance, so it's no surprise that more and more brides are choosing these fabulous locations for their wedding day.  Wineries can provide you with a beautiful and elegant retreat, with both privacy and atmosphere.  Oregon is a state known for its expansive natural beauty, and limitless potential for outdoor adventure.  Not only that, but Oregon has fast become a region known the world over for producing exquisite wines from its rich, fertile soils.  For wine lovers everywhere, an Oregon Wine Country wedding may be exactly what you are looking for.  With beautiful outdoor landscapes, private locations and amazing hospitality, there is no better place for a destination wedding than Oregon wine country.  Experience the essence of Willamette Valley during your wedding, perched atop a vineyard hill, with a dramatic Oregon sunset lighting the valley skies behind you.  Once your wedding is over, uncork and unwind with some of the best Oregon Pinot Noir in the world.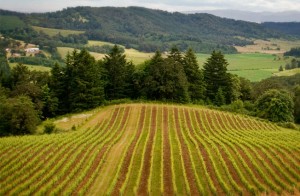 Youngberg Hill Vineyards and Inn has recently been voted as the Best All-Inclusive Venue and Best Oregon Destination Wedding Site Statewide for 2012, making it the perfect choice for your destination wedding in Oregon Wine Country.  Host to only 20 weddings per year, this is a huge honor for a family-owned vineyard, and one we take immense pride in. While the images of the bride and the vineyard countryside will take your breath away, we know at the heart of the wedding, what matters most is relaxing and enjoying the romance of the moment.  At Youngberg Hill Vineyards and Inn, we strive to help you make sure every detail of your big day goes the way you picture it.  No matter what your dream wedding looks like, an Oregon Wine Country wedding is a magical experience, and we look forward to helping you make your dreams a reality.  Please contact us for more information, and any questions you may have about our beautiful Oregon wedding venue.