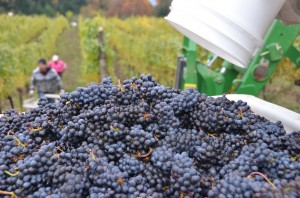 Oh what a beautiful October we had!  Many wine grape growers in the area say that September weather determines how good of a year we have for the vintage. I believe that October tells a good story of vintage quality but its not the whole story. While much of the ripening takes place in September, October is when everything comes together.
2013 Oregon wine vintage was no exception. The growing season started early with an early spring, and that timing continued throughout the season. The summer proved to be a little warmer than normal which also had things moving along a little faster. The combination resulted in ripening happening in warmer conditions, moving sugars and acids ahead of other ripening factors, which may throw the resulting wines out of balance. This caused some farmers to become concerned that the grapes were going to need to be harvested early and that the resulting wines would be high in alcohol.
Then, in late September, weather shifted to cool and wet with one of the largest rains on record for the month of September. That slowed sugar increases and acid decreases and provided the vines with a much needed hit of moisture. Then came October, and with it sunshine, drying breezes, moderate temperatures, and no threat of any significant moisture. This allowed the fruit to dry out and for other ripening characteristics such as flavors, tannins, and phenolics to catch up with the sugars. As a result, the fruit was able to ripen ideally. With no threat of moisture there was no rush to harvest the fruit. We were allowed to harvest when the fruit was ready and we weren't dictated by the weather.
Good weather in October can remedy a lot of concerns from the rest of the summer. Of the last five years, three were saved by good October weather.
Let's not put too much pressure on October, though. Budbreak of the vines begins in late May or April and growth continues to bloom a month or so later, followed by fruit set, growth of the grape clusters, and finally ripening and harvest six to seven months later. So there are plenty of opportunities for weather throughout the season to have an influence on the final outcome of the grapes.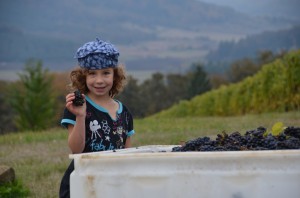 Harvest time is filled with a lot of excitement and a fair amount of anxiety. I always compare it to the birth of a child. It is exciting to think about these new born grapes coming into the winery to become that vintage's wine that will grow and age over future years. It is also a time when many things are at play and may have an adverse effect on the outcome. There are many moving parts during harvest and it can be easy for any part to break or go out of sync. It is always a relief when the fruit is safely in the barn (winery) for the season.  For a more photos of harvest at Youngberg Hill visit our Facebook or Pinterest.