Each season in Oregon's wine country is as special and magical as the last.  While winter may not be your first choice when it comes to taking a tour through Oregon's beautiful wine country, some would consider winter one of the best times to visit Oregon wineries.  Give us a chance this year to show you how beautiful and magical a winer in Willamette Valley truly is with a winter wine tour. Harvest is wrapping up and things are quieting down, bringing fewer visitors to Oregon's wine country.  It an ideal time to enjoy the slower, quieter side of wine country.   Many of the wineries found throughout the Willamette Valley, including Youngberg Hill Vineyards, are open to visitors year-round.  Journey in to the many tasting rooms that dot the Willamette valley, and you're likely to have the chance to sit down and talk in depth to the winemakers themselves; something that occurs less frequently during the peak travel seasons.
Willamette Valley is home to two-thirds of Oregon's wineries and vineyards, and has the distinction of being one of  the premier Pinot noir producing areas in the world.  In the Willamette Valley, you'll find luxurious Inns, B&B's, resorts, and a robust and renowned culinary scene, making it a perfect tourist destination.  Embark on your winter wine tour, and immerse yourself in the Oregon wine country experience.  Throughout your winter wine tour in the Willamette Valley, you'll receive more personal attention from the winemakers themselves, you'll enjoy wine tasting without the large crowds, and will find yourself refreshed after a weekend away from your day-to-day routine.  Savor the chilly mornings and bright afternoons of winter at Youngberg Hill Vineyards, as you enjoy the scenic views of the Willamette Valley from atop the hill of our 50 acre organically farmed vineyard.  Youngberg Hill's exquisite wines can be sampled daily in our tasting room, open from 10am to 4pm.  Here, you are not simply sampling wine in a bar; you are tasting with the winemaker, grape grower, and owner of Oregon's premier wine country estate.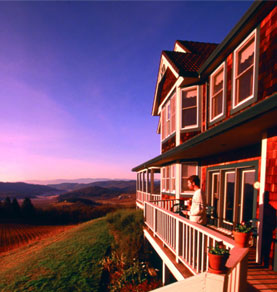 To help you make the most of your winter wine tour experience, we've selected several wineries based on wine selections, tasting room hours, guest experience, and location, and have created wine driving tours through Oregon's wine country.  For the full Oregon wine country experience this winter, take advantage of our spectacular Winter Wine Tasting Package, and experience the beauty and luxury of Youngberg Hill Vineyards and Inn's accommodations.  Our Oregon bed and breakfast is the perfect place for those seeking a quiet and relaxing retreat from their everyday, and a centrally located base from which to explore more of Oregon's wine country.  With our Winter Wine Tasting Package, you'll have the chance to talk to McMinnville winemakers and winery owners, as you enjoy an intimate experience of wine making and wine tasting.  This is a one of a kind experience that will show you the best of Oregon's wine country, and will leave you wanting more. We look forward to seeing you in wine country this winter.