After spending the day tasting in Oregon Wine Country, don't drive back to the city! Make a night of it and stay at our luxury Willamette Valley Bed and Breakfast. This way, you can fully enjoy yourself and possibly even make a whole weekend getaway out of it. There are so many amazing things to do in the Willamette Valley, and most of those involve the beautiful wines grown in Oregon Wine Country.
Our Willamette Valley Bed and Breakfast is a four-seasons resort. Fall brings striking views with autumnal hues and crisp, clear days. Wintertime is one of the coziest times at the Inn to curl up by the fire with a lovely glass of wine. Spring is bright and full of new life as the vines begin to come back from the cold. And summer is vibrant with warm days and long evenings with outdoor events.
Any time of year, Oregon Wine Country is the place to be!
As a guest at our Inn, you'll feel our welcome hospitality from the moment you arrive. Check-in to one of our nine suites, settle in and refresh, and head to our tasting room for Bailey Family Wines—our reserve label. Overnight patrons partake in some fantastic discounts, as well as complimentary tastings of our classic label, Youngberg Hill wines. Start planning your next getaway to Oregon Wine Country and book your room today!
Elegant Spaces to Explore in Oregon Wine Country
One of the best things about our Willamette Valley Bed and Breakfast is all the comfortable and private spaces to share with your special someone. Whether that be taking in the stunning view of the Eola-Amity Hills from an Adirondack chair or finding an intimate spot down among the vines, you'll find that every inch of our Inn and vineyards exudes romance. Join us and see for yourself!
Here are seven reasons to make our Willamette Valley Bed and Breakfast your lodging for your next trip to Oregon Wine Country:
Exceptional Views: As guests walk out onto our deck, there's usually an audible gasp. The Youngberg Hill Inn, positioned atop a small hill, overlooks the vineyards and winery. From this vantage point, you can see all the way across the Willamette Valley to the Eola-Amity Hills and beyond to the Cascades. The windows from the guest suites frame this view perfectly, and you'll catch some amazing sunrises.
Luxury Amenities: Each of our nine guest suites are unique, with different floor plans and appointments, but they all cater to the finer things in life. The softest linens and fluffiest robes, spa-like bathrooms with double steam showers or jacuzzi tubs, and gas or electric fires to warm the cool evenings in Oregon Wine Country are just the beginning of the perks.
Location: Our Inn, located in the heart of Oregon Wine Country, is only 10-minutes from downtown McMinnville and even closer to our neighboring wineries and tasting rooms. You'll find this the ideal place to make your home base in the Willamette Valley.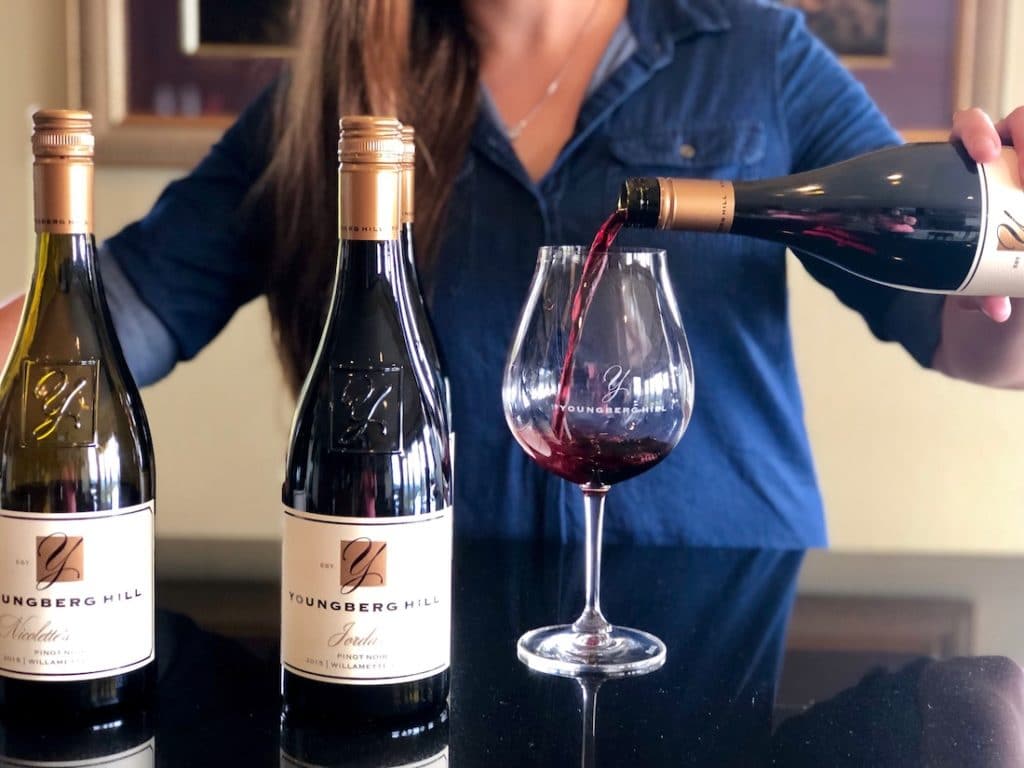 Complimentary Wine Tastings: As mentioned above, overnight guests are welcome to indulge in complimentary wine tastings of our award-winning Youngberg Hill wines. We also offer discounts for tastings of our exclusive reserve label wines from Bailey Family Wines.
Scrumptious Homemade Breakfast: Mornings are quiet and serene here at our Willamette Valley B&B. Thankfully, there's one less thing you'll have to make plans for, and that's breakfast! Our homemade baked goods, gourmet recipes, and fresh fruit are the best way to start the day.
Add-On Packages: Our add-on packages run the gamut from small gestures like charcuterie boards and bottles of wine in your room at check-in to larger memorable outings like a helicopter tour in Oregon Wine Country. We're always happy to accommodate special requests as well, so please ask before arrival, and we'll do our best to oblige.
Concierge Service: When it comes to our level of service and hospitality, we're second to none. Our personal and friendly concierge services make your stay extra special. Allow us to help you make reservations for dinner, wine tastings, and tours.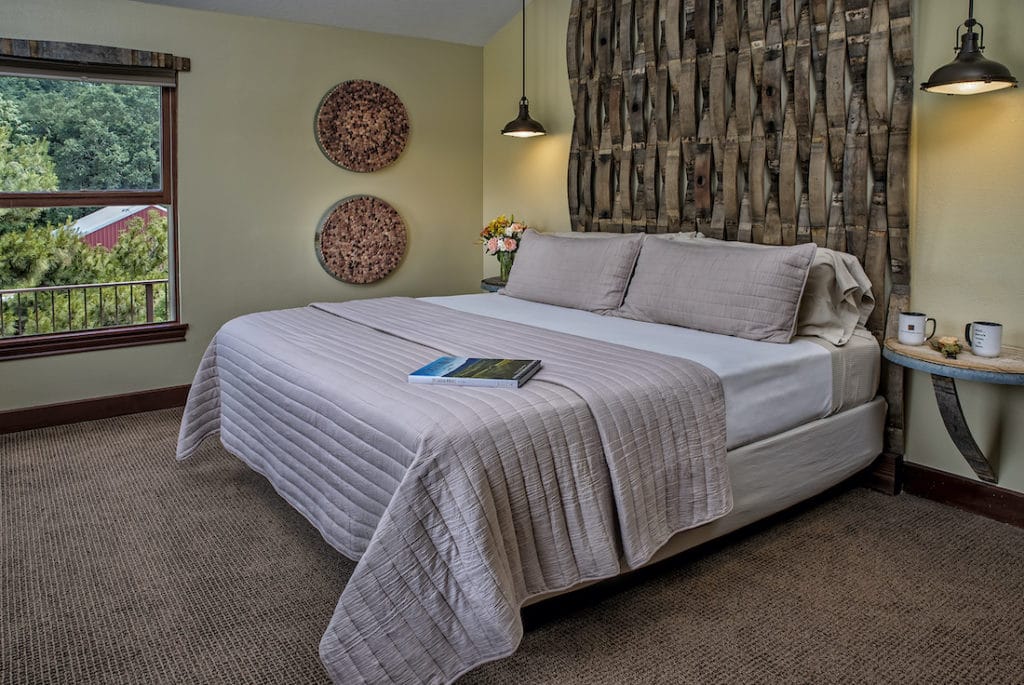 Welcome to Luxury at Our Willamette Valley B&B
For a perfect romantic retreat to Oregon Wine Country, look into booking the Jackson Suite, pictured above. This two-room suite on the second floor has a separate seating area and a private balcony overlooking the northern forest and the Jordon Block vineyard. The bathroom is equipped with high-end fixtures, as well as a double head corner shower.
At Bailey Family Wines, you'll find elegance all around you. Whether it be in your glass filled with the perfect Pinot, on a vineyard tour with the winemaker, or on a stay at our Willamette Valley Bed and Breakfast, you'll feel a world away from the everyday grind. Join us in Oregon Wine Country for your next adventure through the vines. Book your room today!