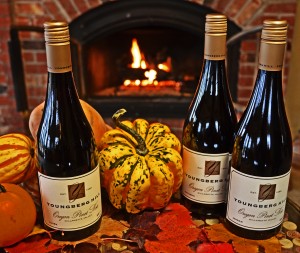 It is release time for the 2011 vintage, and the perfect time to join our Wine Club!
Wine clubs are a great way to keep in touch with wineries that you enjoy, to keep your wine cellar stocked, to try new vintages before the general public gets to, and to receive and/or purchase wines or vintages that are only available to wine club members. In fact, there are some entire vintages that are only available to wine club members.
A Wine club membership provides discounts on purchases for semi-annual shipments and on other orders. Members are also invited to participate in special events throughout the year including winemaker's dinners, free tastings, wine tours, barrel tastings, club pickup events, blending parties, and more. Wine clubs also provide opportunities to enjoy wines that are not released to the general public or stores.
At Youngberg Hill  we keep you close to the source of the wine by providing vintage updates regarding the growing season, industry goings on, and everything that is happening on The Hill, including benefit concerts and our summer Thursday night live music on the deck. We encourage you to meet the winemaker and learn all about the growing of the grapes and wine-making approach that makes the wines what they are. Learn about the vineyard, the farming practices and how they translate into the taste of the wine. Learn more about each growing season and how it influences the unique characteristics of that vintage. It's all about being up close and personal with everything that makes Youngberg Hill wines  what they are.
Receiving wine at your front door allows you to open a bottle at home and enjoy a taste of The Hill. Close your eyes and imagine you are on the front deck, looking out across the entire Willamette Valley.  And what about that older vintage you had on your last anniversary? Email us or go online and you'll be able replace that bottle for the next special occasion. A wine club membership makes a great gift for wine lovers during the holidays or for special occasions such as birthdays or anniversaries.  This holiday season treat someone you love to a wine club membership that will keep on giving all year long.