Here in Oregon wine country, we tend to feel as if there is no real "off-season." We are busy all year round, so we don't have the same schedule as many of our guests. If you are thinking about visiting the WIllamette Valley, but you can't come during the summer – don't worry! Our wonderful valley is a great option to get you through that long haul during fall and winter when things get gray and you need a vacation more than ever.
So, to combat winter fatigue, we thought we would provide some ideas for planning your "off-season" vacation now. This way you can get a jump on things and have a lovely winter here in wine country.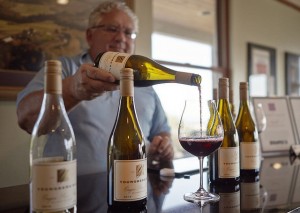 First things first, get your stay scheduled in advance. Because Oregon wine country is so gorgeous (and often temperate) all year round, we get booked up in the wintertime. Be sure to reserve your favorite room for your vacation.
Map out your trip. There is so much to see here in the Yamhill and Willamette Valleys. In our area alone we have over 150 wineries and tasting rooms that you can sample. Make a list of the wineries you'd like to visit most and map your route there.
Make sure to visit other area attractions. We are dedicated foodies here in Oregon and we are proud to be surrounded by amazing restaurants like the Joel Palmer House, Thistle, and Bistro Maison. There are also local artists, delicious handmade chocolates, and gorgeous views all throughout our valley.
Use us as your home base. You may want a day on the coast or to pop up to Portland for several hours. We are your perfect, quiet, and cozy base for day trips!
Ask us questions! What is the focus of your trip? Do you want to see the sites, enjoy unique wines, or just relax for a few days? Let us know and we will work to help you make your dreams a reality!
Winter, spring, summer, and fall in the Willamette valley are incredibly beautiful and unique. We hope to make your trip perfect, no matter what the date or time of year