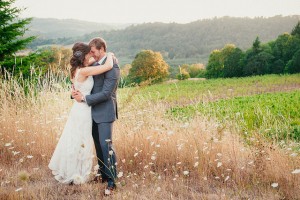 We are sure you've seen all of the amazing boho-chic and rustic organic charm featured in Pinterest weddings. You have also probably seen the "Pinterest fails" when someone tries to duplicate the beautiful photos and projects featured on that popular website. In this article, we have compiled seven beautiful ideas that will add organic charm to your Willamette Valley wedding. We have seen these ideas in action, so we know you won't have to take a "fail" picture when using them in your wedding.
1 – Incorporate seasonal flowers. A spring/early summer wedding may bloom with soft pink peonies and roses while a summer wedding can feature glorious dahlias and sunflowers. Using seasonal flowers can only enhance the natural surroundings found here in Oregon Wine country.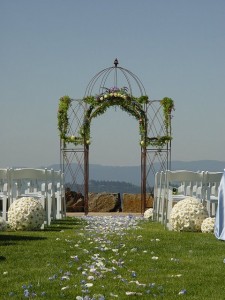 2 – Speaking of flowers… think about where you want the flowers. When we think about boho-chic weddings or weddings with an organic feel, we usually think about flower crowns adorning the bride's hair, trailing bouquets, and flowers in containers big and small. While you may think to just adorn everything with flowers, that can get pretty expensive. So, consider how and where you'd like to place the flowers so that you get the biggest bang for your buck.
3 – The cake can be anything from crazy creative or super au naturel. Generally, organic or rustic weddings have a cake that either looks like a flower or has flowers involved in the decoration. The other side of the boho/organic coin is to have a very plain looking layered cake. If you want the flower look, but don't want to actually eat petals, you may want to look at silk flower cake toppers or other faux flower decorations.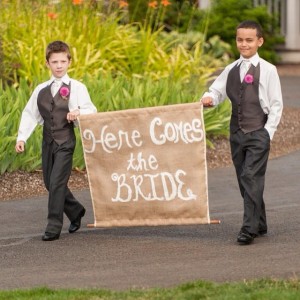 4 – Decorations can be creative. Organic weddings have a flowy, wild garden, and vintage feel. This means you can use your imagination when decorating. Think about different fillers you can use. Some ideas include hay, snapdragons, rosemary, feathers, wildflowers, or thistle. Also, look at materials like lace and burlap to decorate your chairs or vases. You can have a ton of fun decorating for your wine country wedding.
5 – Mismatching is okay. We have seen more and more couples use adorably mismatched vases and mason jars, wood and metal buckets, fun wood signs, and more. When you go for a boho-chic look, mismatching goes with the overall look.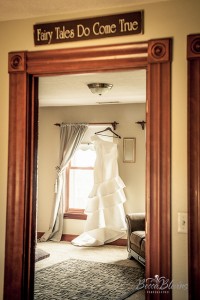 6 – You aren't stuck with a traditional dress or only wearing white. Modern brides are not stuck with pure white, traditionally cut dresses. Wedding dresses can be any color and any style.  Pick the dress and color that makes you feel gorgeous and you have your wedding dress!
7 – Have fun with it! Pinterest weddings are always gorgeous, but this is your wedding. You and your partner are celebrating your unique and one-of-a-kind love. So, don't feel restricted by Pinterest or a set theme. Create your own beauty and we guarantee your wedding will be just as wonderful as your love for one another.
We hope our tips have helped you as you plan your big day!