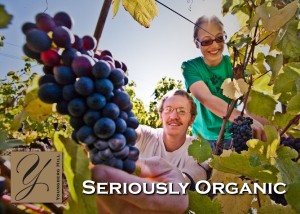 Each year, we hire students from Linfield College to help out at Youngberg Hill. For the last two years, Melissa Davaz and Scott Heron have worked our events, worked in the vineyard, and done a lot of handy work around the Inn. We have been fortunate to have wonderful, reliable, and resourceful young adults from Linfield work for us over the years, and Scott and Melissa are no exception. They continued to work for us after graduation, and although Scott now has a full time job, Melissa still comes out to give us much-needed support.
Melissa and Scott have performed in concerts at the vineyard, and Melissa gives our daughters piano lessons.  They have both become members of our family.  Like many grads, they continue to come back to the Hill just to spend time here and see how things are going. We look forward to Melissa and other Linfield alumni working for us this summer.
Youngberg Hill is proud to be Partners in Progress with Linfield College – donating wine for functions, and supporting many other activities on campus that we love and feel are a benefit to everyone involved.  The college holds an annual benefit concert every summer to support the Linfield Orchestra, and we wouldn't miss it.  Having a school like Linfield in our back yard is an asset to the entire community.
There are many others who make valuable contributions within the McMinnville area – CASA, YCAP, Henderson House, Virginia Garcia Medical Center, Rotary Club and Travel Yamhill Valley, to name a few.  We are grateful for the work these fine groups perform, and are honored to support them.  We feel it is important to the growth of the entire community that these organizations are able to thrive, because they give so much back every day.