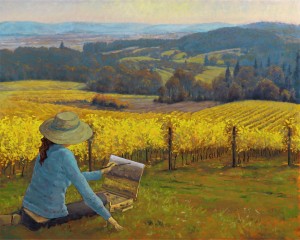 Either hone your artist skills or explore your untapped talent with this specialized adventure.  Begin the day with a personalized workshop designed to meet your skill level and interests. Paint one of the most beautiful, and most painted, places on earth. Painters from around the world have come to paint and study the beauty of wine country. Learn to create our own interpretation of this majestic place. Enjoy a day of painting with Michael Orwick, renowned artist and world traveler with a sense of place and a warm and hospitable nature.
Join Michael Orwick in scenic Oregon Wine Country, Oregon, for 1, 2, or 3 days of painting some truly spectacular Youngberg Hill scenery.  Put life and personality into your landscapes. We will focus on the fundamentals of landscape painting while exploring the beauty and atmosphere of the area.  You will learn the importance of observation rather than using formulas and recipes to paint what you actually see and feel.
Each day will include a demo and a group discussion about painting techniques, materials and philosophy, and individual easel time along with helpful critiques. I like to concentrate on the basic elements of painting and will include an exercise or two to reinforce some of the basics that we all need to brush up on from time to time.
The workshop is open to oil painters of any level.  Look forward to Lots of personal painting time and help every day. We'll all learn a lot and have a great time.  Demonstrations will be directed at oil painters, but concepts and principles will apply to all media.
Advanced Reservations Required.  Tickets available at  orwickillustration@comcast.net
June 8-10th
$100 a day/ or $250 for all 3 days
10am-4pm (Students are always welcome to join Michael for informal sunrise and sunset paint outs at no additional charge.)
Inn rooms, Picnic lunch (48 hr advanced notice required) and wine available at extra charge.