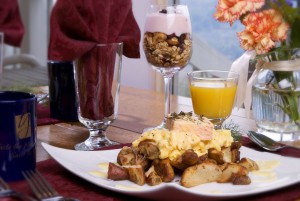 Chef of the Year Winemaker Dinner
April 2, 2011
Come celebrate an unforgettable night of a perfectly paired nine course dinner created by "Chef of the Year" Chef Erol Kanmaz, Sous Chef for Timberline Lodge.  He and our in house chef/assistant wine maker, Jess Davis, developed menu and recipe ideas to jointly highlight the pairing of his spirited and talented creations with the wonderful wines of Youngberg Hill.
This is a very limited opportunity to enjoy the mastery of culinary arts and how locally procured foods can play with the wine of Youngberg Hill.
Where:  Youngberg Hill Vineyards & Inn
Date & Time:  April 2 @ 6:30pm
Cost:  $200/ couple, $50 off for Inn overnight guest.
Advanced reservations required at 503.472.2727
Special wine prices available.
Menu posted on our calendar at www.youngberghill.com