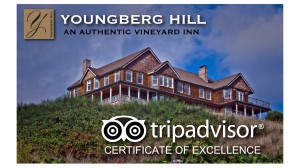 With the vineyard, tasting room, weddings, and the rest of the buzz going on at Youngberg Hill, it's nice to slow down as the evening arrives, and get to know the guests that are staying with us at the Inn.  They hail from all over the world, and have found us through our website, their friends or other avenue, and have decided to make Youngberg Hill their place to retreat and recharge throughout their vacation stay.  Many return each year, and we like to consider them our friends.  When they come down for breakfast in their bathrobe, we know they feel the same.  Our guests are those travelers that are looking for a relaxing, out-of-the-way experience where it is peaceful, laid back and unassuming.
We have an instant connection with our guests through our shared love of wine.  Over 90% of our guests are in the valley to taste Oregon Pinot Noir, and they relish the idea of staying on a vineyard, seeing where the fruit comes from that is going into the wine they are enjoying.  Sharing our wine and our story with the guests that join us every afternoon at our wine tasting reception gives both them and us an opportunity to really get to know each other, our families, our wines, and the valley.  And we get to hear of their other adventures – driving to the coast for the day, hiking at Silver Falls, visiting the Gorge or Mount Hood, or hot air ballooning.
When their vacation comes to a close, and they go home to New York, Atlanta, Germany, Australia, Seattle, Dallas or China, they will sometimes check in with their friends on the Hill, to let us know they've opened our wine, they are missing Oregon, or that they are passing this way again.   And we love to hear from them, and look forward to sharing another glass of wine.