When Autumn arrives, we often turn our thoughts to comfort and warmth. With the harvest season, we also turn our thoughts to sumptuous meals and comfort food. Here are recipes with Fall foods and perfect pairings that promise to delight:
Oregon's wine country is world renowned for Pinot Noir, a light to medium-bodied, food friendly red wine with red berry and cherry flavors. Come to our tasting room at Youngberg Hill Inn and try ours!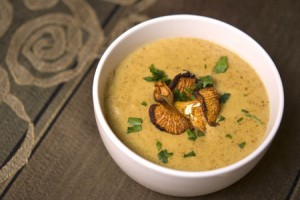 What pairs perfectly with Pinot Noir? Local Golden Chanterelles. When prepared, Chanterelles have a delicious, buttery chicken flavor with fruit notes of apricot and a mild peppery taste. How about a smooth, golden, pureed Wild Mushroom Soup?
Try this recipe here.
Or try a few of of these recipes for a celebrated meal that your family and friends will love.
At Youngberg Hill we make a very fine Pinot Gris. With ours, you'll find bright fruit aromatics range from grapefruit, mango, to apricot, leading to a flavor palate of lemon, grapefruit, apricot and tropical fruit. Its texture gives way to a wonderfully smooth and round finish that is easy to drink sitting out on the front deck. With a little higher acidity, it is very crisp with a soft, clean finish.
For the perfect complement, try this delectable dish. It is sure to be a crowd pleaser. You can also try these great recipes. They are positively divine.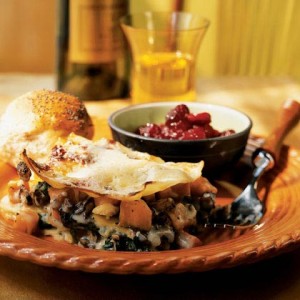 Lasagna with Fall Vegetables, Gruyere and Sage Bechamel 
Fall vegetables such as spinach, onions, and sweet potatoes combined with portobello mushrooms, herbs, parmesan, French gruyere, and exquisite sage bechamel for a savory and aromatic treat for the senses.
You can add or substitute parsnip, butternut squash, and pumpkin.
Now that's what I call a perfect pairing!
Rare Pinot Blanc features fruit notes of apples and pears. Ours is wildly popular and often sells out. Pinot Blanc pairs well with chicken, lemon, custards, and white, soft cheeses such as brie and French gruyere.
Pinot Blanc's light fruit compliments this Autumn Quiche perfectly.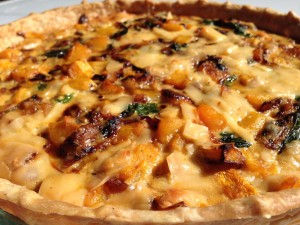 The recipe makes use of a few fall harvest staples that are abundantly available: butternut squash, kale, thyme, and onion. You could also add zucchini, acorn squash and white mini pumpkin as well.
This recipe calls for a smoked gouda cheese. Yum!
As you can see, there are many great fall recipes that compliment our wines winningly.
We've shared just a few of our favorites with you, and we are positive you will enjoy our wines with them. Come visit our tasting room today and bring a bottle home with you.