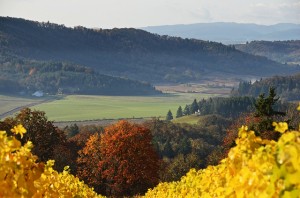 Ahhh, Fall Splendor…When a rich tapestry of spectacular color covers the beautiful Yamhill Valley it creates an unforgettably charming backdrop for your autumnal getaway.
You will feel there is something special about the crisp, clean air in Yamhill Valley.  Leaves rustle in the trees. A glorious spectacle of red, orange, purple and gold create a brilliant contrast to the uncommonly bright blue September through October sky. Leaves swirl on the roadside as you drive through the country. Sunsets are riveting, and the sunrise is even more radiant.
 If That Wasn't Enough of a Reason to Visit the Yamhill Valley, Here Are 8 More Reasons That Will Delight You:
Wine. The fall grape harvest produces some of the best Pinots around. Curl up in a blanket on the hillside, take in our sweeping views of the valley's rolling hills and stunning vineyards and share a bottle of wine from Youngberg Hill. Want to sample more great Yamhill Valley wines? Join up with an "Escape Artist" from The Grape Escape for an enjoyable tour.  They have been providing personalized private tours of the Oregon wine country for over 16 years. They'll  share tips on the best ways to taste Oregon Pinots, then match them to local cuisine at the wineries along the way- Appetizers on their Afternoon Tour, lunch on their Full Day Escape, and dinners paired to wines on their Evening Escapes. Delish!

Food. Harvest season in Yamhill Valley provides unique dining experiences at fine local restaurants, particularly the ones that feature fresh, farm-to-fork fare.  In the fall, you must try The Joel Palmer House in nearby Dayton, OR.. Their unique specialty is fine dining and wine with recipes that focus around wild mushrooms, harvested from the local forests the same day. Others with truly fresh, locally grown food that will delight you are The Dundee Bistro, Red Hills Provincial Dining (Dundee, OR)  Bistro Maison in McMinnville, OR, and Cuvee in Carlton, OR.
Photographer's Delight.  Bring your camera and travel to one of these locations and check out our beautiful native avian wildlife, amongst all the beautiful fall foliage. Travel through the countryside and snap pictures of old farmsteads, historic chapels, hillsides, river bends, and vineyards as they burnish golden in the fall… You are sure to capture some great images.
McMinnville, Oregon. McMinnville's 3rd Street, nominated as one of the best main streets in the country, features charming sidewalks and historic buildings and is an eclectic mix of edgy, forward thinking green philosophy, art, music and international fare. Strolling down the tree lined sidewalks, you will find traditional French, Creole, Japanese, South American, Mexican, Spanish, Italian, Thai, and Northwest Cuisine. There are a number of coffee shops, each one, unique, wineries,and some art galleries, a gift shop, a brewery, a bike shop, yoga studios, ballet studios, two theatres, and many more local treasures to discover.
Carlton, OR. Carlton, Oregon is emerging from a sleepy rural town into an up and coming city. While it largely pays respect to its rural roots, it has smartly given a nod to chic urban renewal. As a matter of fact, with the addition of wineries and fine dining restaurants, it is fast becoming a notable destination in Yamhill Valley. The Horseradish is a local hotspot.
Golf. Cross Creek Golf Course, winner of the Player's Choice Awards is located in Dallas, Oregon. It is a beautiful, challenging 18 hole course that is quickly becoming one of the most popular golf courses in the valley. Chehalem Glenn Golf Course in Newberg, Oregon boasts the best  practice facilities of any public course in Oregon.
The Coast. You aren't far from the Oregon Coast, and the drive is breathtaking, as you wind through forests all the way to the beach. A trip down the highway 18 alongside a beautiful river lined with brilliant gold, red, and orange maples and yellow birch, against an emerald evergreen forest creates a stunningly beautiful journey and a lasting memory. 
When planning your fall trip to Yamhill Valley, look for openings at the Youngberg Hill Inn.