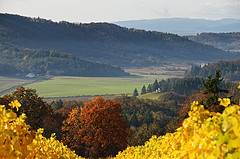 Autumn is the perfect season for a Pacific Northwest adventure. As leafs change and the nights chill, McMinnville is full of unique events for the perfect vacation this fall.
August 31—Oregon Wine Country Half Marathon
Admittedly, it's at the tail end of summer, but if you're a runner, this race is a can't-miss! The 13.1 mile course weaves through the heart of Oregon Wine Country here in the Yamhill Valley. The whole weekend is packed with events, starting with Friday's Welcome Reception in Carlton. The race is followed by a free Wine and Music Festival and local winery tour.
September 5th-7th—Oregon Brews and BBQ
McMinnville is certainly well-known for the local wineries, but the Willamette Valley has an amazing selection of craft brews, too! This three-day event highlights more than 35 local breweries with live music and delicious BBQ, all supporting a great local cause, the St. James Catholic School andGhana Hope Foundation. The beer, food and fun can all be found at the Granary District in McMinnville.
September 13th—Carlton Crush Harvest Festival
Fall in Yamhill Valley is always harvest time at the vineyards. To celebrate our collective love of wine, and all the vineyards mean to our community, there are many harvest festivals in the area. The Carlton Crush Harvest Festival is a free, all-day event with games, an arts and crafts market, contests and live music. Oh, and there's plenty of wine too! If you really want to get your crush on, sign up for the Grape Stomp Competition and experience the most entertaining part of the winemaking process.
October 31st—Safe and Sane Halloween on Third Street
Halloween seems to be the perfect mix between fun and hectic. So this year, why not let the businesses in Downtown McMinnville do all the planning for you? Bring the kids with you for hay rides, games, cartoons and more. From 4:00-5:30pm, they can even go trick or treating on Oregon's Favorite Main Street!
Thanksgiving Weekend—Wine Country Thanksgiving
Over 160 local wineries open their doors on Thanksgiving weekend. There are special tasting events, live music and discounts. No two wineries celebrate the same, so try to see as many as you can! A nice glass of Pinot Noir and those beautiful autumnal colors across the vineyards make the perfect pairing.