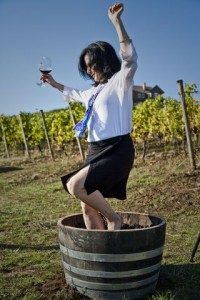 The harvest season is often referred to as "The Crush," taking its name from a very important step in the winemaking process. Though foot-stomping instantly comes to mind, there is a lot more to the crush than that.
Harvesting begins once the grapes reach peak ripeness. Knowing when to harvest is not an exact science, but it usually occurs with summer turns to fall. Each grape cluster is then carefully sorted to ensure only the best fruit goes into the wine.
That's when the crushing begins. The purpose of this stage is to break open the skins, exposing the juice and pulp. The grapes' seeds and stems aren't crushed because they contain the very important tannins. Not only do tannins contribute to the texture of the wine, but they are invaluable to the color and bitterness of it as well. The sooner the stems are removed in the crushing process, the less tannic a wine will be. Sometimes the stems aren't removed until right before fermentation and pressing, which is why red wines tend to be more bitter than their white counterparts.
The crush is a very symbolic portion of the harvest season, and of winemaking in general. In fact, there are many festivals celebrating it, including the local Carlton Crush next month. These festivals are family-friendly and delight in one of our area's greatest traditions. And, of course, there's a lot of foot-stomping!