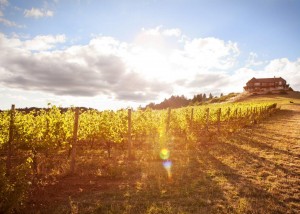 The end of the summer season is often when many vacation destinations close their doors. Not here in the Willamette Valley.  This is actually one of our busiest times of year.  Why is that?  Two words: Harvest Season.
Many wineries all around the Yamhill and Willamette Valleys are still filled with golden or purple grapes, getting a little more hang time or being enthusiastically harvested.
The grapes aren't the only thing changing color. The leaves on the vines are turning too.  You haven't seen Oregon wine country until you have seen row after row of gorgeous, fall color lighting up the vines. Our valley is a photographer's dream. This is one of the reasons the Willamette Valley was listed in the top ten places to go leaf peeping in America.
The amazing fall foliage, the activity and excitement of harvesting grapes, and all that delicious wine make autumn the right time to visit wine country.  It's truly gorgeous.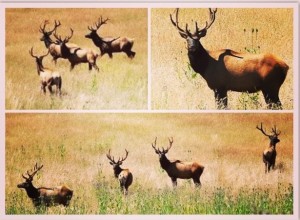 Additionally, because Youngberg Hill is a holistic vineyard which works with nature, this is a great time of year to see anything from elk to any number of birds.  Many animals can be seen on our grounds as well as at nearby locations like Cascadia State Park, Dexter State Recreation Site, and Jasper State Park.
Finally, for the those who want a break from the outdoors, Youngberg Hill is located by several cities with great shopping (local art, handmade chocolates, or artisan soaps, anyone?), delicious food, and – of course – plenty of wine.  There are also several microbrews available for those who want to add some variety to their palate.
Harvest season is the most exciting time of year to be on a vineyard in Oregon Wine Country. When's your favorite time to visit?