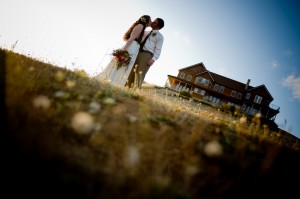 You and your partner have decided: you're getting married.  There's no need for a big wedding, it would be more fun to get hitched away from all that stress.  Even better, you're getting married at a destination of your choice.  This opens up the option of honeymooning at your marriage location.
We understand your needs here at Youngberg Hill. That's why we provide services for just such an occasion.  Even though you're not having "the big wedding," there is still planning involved in an elopement. Here are are four tips for planning your perfect destination elopement.
Tip 1: Location is important.
Whether you will be honeymooning at your marriage location or not, it's important that you find the spot that you will remember forever.  Even though this is not a huge wedding with a reception, catering, and crowds, you and your significant other will remember these moments for the rest of your lives.  So, pick a place that you will love to remember – together.
That brings us to the next tip:
Tip 2: Be sure to get a great photographer.
Your marriage location may be able to recommend some great, local photographers, or perhaps you can find someone on your own for your special day.  Either way, remember that you are only sharing this day with your partner.  No one else will be around to snap candid moments or grab Uncle Bill's camera for a few shots.  You will want a professional you can trust to capture the moments of your marriage so you can your partner can look back on this special day and smile together.
Tip 3: Don't forget the marriage license!
Here in Yamhill county there are specific requirements for obtaining a marriage license.  One such requirement is a waiting period which may be waived for a fee.  There's also an age requirement (18 years of age, 17 if a parent or guardian gives consent.)  It's really simple to obtain a marriage license here, so be sure to get one before the elopement.
Tip 4: Do something special post-marriage.
There won't be any big reception, cake cutting, or bouquet toss after your nuptials.  That doesn't mean you can't celebrate!  Whether you head out for dinner, share a bottle of wine, or have a giant party when you get home, be sure to do something fantastic to celebrate the amazing, life-long commitment you both just made.
An elopement is incredibly personal and special.  Here's to yours being the perfect day to start the rest of your lives together!