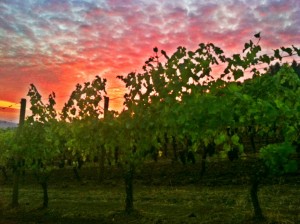 There are many reasons to visit the Willamette Valley for summer and the first official day of summer is fast approaching.  This means the vines are growing full steam ahead, flowers are in full bloom, and the temperatures are generally perfect.  At least, that's what it means here in the Willamette Valley.
Not only is our valley absolutely gorgeous this time of year, it's also just a stone's throw from many other local sites and "must see" locations.  So, whether you are traveling from nearby Portland or Seattle – or if you're coming from much farther away, here are just a few reasons to visit us this summer:
– It's the perfect time to tour wine country by bike.  The scenery is fantastic, the weather is temperate without being roasting, and our roads are bicycle friendly.
– Local vineyards boast new growth, grapes, flowers, and great wine.  We are often compared to Bordeaux, France.  The views from our tasting room and several of the guest rooms in our Inn will show you why.
– The Oregon Coast (one of the 7 Wonders of Oregon) is only an hour away.  Several more wonders such as Mount Hood, the Columbia River Gorge, and Crater Lake can be seen on a day trip from here.
– We have over 150 wineries and tasting rooms in our area alone.  Our winery and Inn keeps things friendly enough for a newbie to wine, but we have enough around us to satisfy the most discerning wine aficionado.
– The International Pinot Celebration happens in summer – and it's an event not to be missed.
There is so much more to do and see at our winery and in our valley this spring and summer.
We are thrilled to see what else 2014 will bring!