May is a special month to many people.  Ancient Romans went wild for it.  Mexican Independence Day is May 5th.  It's the last official month of Spring.  May is considered a time when flowers are fully in bloom, the bikes come out of the garage, and the snow has fully melted in most of the coldest states (sorry Alaska).  But, there are several very exciting reasons we at Youngberg Hill love this month.
May is Oregon Wine Month
We in Oregon are serious about our local wines, and we feel that everyone should discover or re-discover our fantastic wines.  You can come visit us all month long for a quick tasting or for the full, Youngberg Hill experience at our Inn and winery.  Either way, enjoy the wine, watch the spring flowers blooming up and down our hill, see the vines as they branch out for another great wine year, and cast your eyes upon the best views in the valley.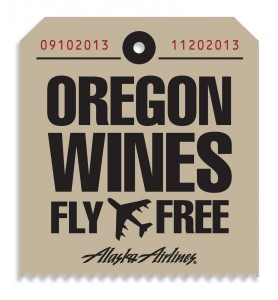 Wine Flies Free      
As if you needed more incentive to come to Oregon for our wine month, Alaska Airlines is hosting another year of Oregon Wines Fly Free starting this month.  This means, when you visit participating wineries (and you better believe we're participating) you can taste wines for free as long as you:

a) Are an Alaska Airlines Mileage Plan member and
b) Have an Alaska ticket from a participating airport that is in use for travel.  

PLUS, when you want to bring a case of our lovingly made wines home with you, you can check it for free as baggage.
The McMinnville AVA Passport Weekend
The first weekend of May is the McMinnville AVA Passport Weekend.  This is our town's way of really kicking off Oregon Wine Month.  Visit all participating locations over the weekend and enjoy a tasting.  We'll stamp your passport – and once all five stamps are collected, you will enjoy free tastings and receive 10% off purchases for the whole month of May.  Additionally, you will have a chance to enter for five premium bottles.
Mother's Day
Our winery is family-owned and operated.  This means that Mother's Day holds a special significance for us.  We know how hard you moms work, the struggles you must overcome, and the bountiful rewards of motherhood.  That's why we are inviting you to come and take a load off for Mother's Day.  If you're a mom, come to our tasting room and enjoy a complimentary wine tasting.  Our glasses are raised to you!
Memorial Day Weekend
We are wrapping up the month with a three day weekend that will feature our new release!  The 2013 Aspen Pinot Gris will be in our tasting room for your enjoyment.  Not only that, our new deck will be open so you can sip wine and enjoy the best views in the valley.
So, as you can see, May is a big month for wine in Oregon.  We hope you can make it out and discover the fantastic wines available here in wine country.  Cheers!