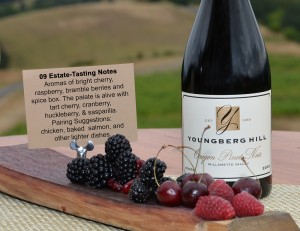 Finding the perfect meal for your wine can be a daunting process.  There seems to be a ton of rules and regulations which you should follow – and often these are contradictory.  This can make any wine lover feel as if they need a personal sommelier in their home at all times.  Unfortunately, that option is rarely practical. Instead of giving up and resorting to water at your mealtimes, here are six tips for pairing wines with your meals – or vice versa.
Tip #1: It's all a matter of taste.  While there are some very general rules – like whites usually go with fish and chicken, while reds often go with red meat, these aren't hard and fast rules.  Instead, think about wine and food pairings which you have enjoyed in the past.
Perhaps you had a great Pinot Noir with a delicious mushroom dish.  Be sure to consider what about the wine pairing worked for you.  What were the notes and textures you enjoyed most about the wine? Consider why that wine worked well with the food you ate.
Tip #2: When in doubt, try a medium-bodied wine.  The middle of the road may not make the perfect pairing, but it can be a great safety net when you really have no idea what to pair with your food.
Tip #3: Take a look at the label.  Does it say what kind of flavors the wine has?  Match those flavors with your meal.  For example, the note of pineapple in your white may go great with fish or some asian cuisines, but could taste very strange with pesto.  A young red wine may work really well with bitter foods like olives or radicchio, but could taste pretty odd with pecorino.
Tip #4: Experiment.  One of the best ways to discover your own taste and what food and wines work best for you is to try and pair foods with wines.
Try this: Buy or make small appetizer portions of your forthcoming meal.  Next, taste the wine, then the food and see if they pair well.  If not, look at the characteristics of the food and the wine.  Were you pairing a high acidity food with a high acidity wine?  Was the wine so full bodied that it overwhelmed the delicate dish?  Experimentation may lead you down a culinary path you would not have otherwise discovered.
Tip #5: Don't just consider the type of food – also look at how it's cooked.  A rule we all hear is to pair fish with white – but if you're eating a hearty fish stew, a Pinot Noir might be a better match than a Chardonnay.  Additionally, beef is normally paired with a big red wine, but a super spicy beef chili may work better with a Pinot Grigio or other white wine.
Tip #6: Don't make things too complex.  If you know you have a wonderful, complex bottle of wine that you really want to enjoy, keep the food simple.
In the end, it's always about the "yuk or yum" factor.  Meaning, if you like the wine pairing – that's what really counts.  These tips are just a way to help you get to the "yum."