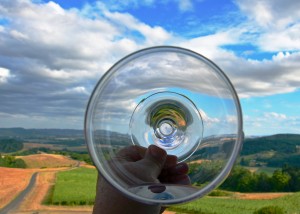 Pinot Noir was first planted here in the Willamette Valley since 1965.  Oregonians have been taking care of their land and keeping family wineries going ever since.
As custodians of the land, we hold ourselves to a very strict standard.  We work to follow holistic and biodynamic farming practices which allow the soil, the grapes, and nature to work in perfect harmony.  This produces a higher quality grape and wine.
Not only do Oregon farmers in general and Youngberg Hill in particular take environmental stewardship seriously – the state requires our wines be the best in the country as well.  Oregon's wine labeling regulations are the strictest in the US. There are many reasons we work so hard to preserve our land while making some of the best Pinot Noir out there.
The Oregon Difference
1st: The Willamette Valley is not just a place to live.  It's a slice of Tuscany transplanted into America.  With proper stewardship of our land, we will be able to enjoy this land for generations to come.
2nd: We are passionate about wine.  The beauty of young grapes ripening into that perfect harvest.  The joy harvesting our grapes at just the right moment.  The shared excitement of shaping that harvest into a reflection of our land, the seasons, the weather, and the year.  These are what we love – and it's a passion we want to share with you.
3rd: Our home is a part of a greater heritage.  That of the Oregon wine country.  We share it with you in the form of our wine and in the hospitality of our Inn.  We want that heritage to continue through our family and this winery for many, many years to come.
The wines produced here at Youngberg Hill are a reflection of our home and the land on which we live and grow.  Here's hoping you have a chance to enjoy a little slice of Oregon.  Cheers!