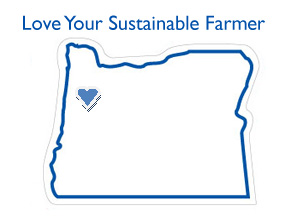 We Oregonians take pride in our efforts (and results) in protecting and preserving the environment. We believe there are alternative ways to doing things that will have less negative impact on the delicate balance of nature. The wine industry, because of our dependence on that balance of nature, is a leader in taking action and creating awareness around this important issue.
Most of us in the wine industry who farm organically, sustainably, and biodynamically do so because we believe it is necessary to protect the environment, improve the health of the land and the vineyards, and to sustain the balance of nature. Many of us also believe that it improves the health and the quality of the fruit we harvest, allowing us to make better wine.
We do not practice these methods as a marketing ploy.  In fact, market research suggests that the general wine consumer does not reward wineries by buying those wines farmed and produced sustainably over others.  We take this path because it is the right thing to do.
Then why is important to identify our farming practices with certification logos on our labels and in our marketing? Because we feel it is important to continue to raise the awareness level of our environmental impact, and ways in which we can reduce it.  That is why we have not only organic certification, but also salmon safe certification, low impact viticultural certification, Oregon Sustainable certification, and so on.
We are proud of the small role we play in preserving our planet!