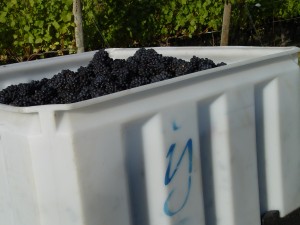 It's beginning to look a lot like harvest, everywhere you go.
The air is crisper. The leaves in the trees are turning color. The grapes have changed color. Now it's a waiting game, and fervent hoping that the good weather continues. We have had great weather for the most part this year with the timing of bud break, bloom and veraison, and heat units are tracking very similarly to 2008. The optimal weather in October was the pinnacle of a great 2008 harvest, and so far everything is in alignment to repeat that good fortune this year. The weather looks great for the rest of September – maybe a little warmer than normal, which will ripen the grapes a little faster – and we're crossing our fingers for next month.
We will most likely harvest our young block of grapes from the Camelot block sometime in the first week of October. They are at about 20 brix (20% sugar) right now and typically increase by about 1.5 brix per week when the weather is good – sunny and dry. Our target is 23 brix. The pinot gris in the Aspen block will most likely be ready 10 days later, followed by the Natasha and Jordan blocks respectively.
Besides sugar content of the grapes, we are also looking at pH and total acidity to determine their readiness. We are also evaluating the maturity of the grapes; how liquid the pupl of the fruit is, how brown the seeds are, and how the flavors are coming in.
Stay tuned!