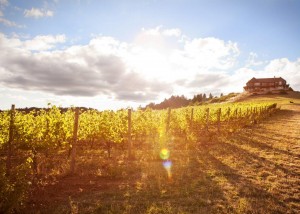 Not only are we at Youngberg Hill celebrating our 25th anniversary this year, the entire Willamette Valley is celebrating 50 years of Pinot Noir. In honor of both of these anniversaries, we wanted to talk about the development of Pinot Noir here in our beloved valley.
Brief History of Pinot in the Valley
Back in 1965, David Lett planted Pinot Noir here in the Willamette Valley. By 1970 there were just five bonded Oregon wineries. In the '60s and early '70s, winemakers were simply matching varietals with climate. They ordered the cool climate varieties and crossed their fingers – hoping the match would be perfect. Luckily, it was and Oregon Pinot Noir blossomed throughout the Willamette Valley.
By 1974, Oregon State University was able to help create clones of Pinot Noir and Chardonnay imported from Burgundy, France. The Burgundy weather and land is very similar to the Willamette Valley climate, and these clones thrived. Oregon wine was put on the map as a force to be reckoned with and in 1975, Portland restaurant L'Omelette created the very first wine list featuring Oregon wines.
Over time, more and more wineries sprouted up throughout Oregon. By 1980 there were 34 bonded Oregon wineries and in 1985 Oregon wine saw a huge triumph. Our local Pinot Noir outshined the French in the Burgundy Challenge at the International Wine Center in New York. By 1990 – when Youngberg Hill came to the Willamette Valley – there were 70 bonded Oregon wineries and by 1997 sustainable winegrowing became a hallmark of Oregon winegrowers. There are about 400 wineries in the Willamette Valley now, and that number is still climbing.
Here at Youngberg Hill 
Over the years Oregon wineries have worked toward carbon neutral, sustainable farming practices. At Youngberg Hill, we work to embody these environmentally friendly strategies in both our farming and winemaking practices. We feel these processes don't just help the environment, they allow our wine to express the terroir in taste and texture.
Not only have we made sustainable improvements in farming practices, we have added variety to our wine repertoire. At the moment we have three distinct blocks of Pinot Noir and one block of Pinot Gris and Chardonnay.
One thing that shows up strongly in Willamette Valley wines is the terroir (the taste and flavor imparted to a wine by the environment in which it was produced). We have 20 acres of vineyard and each block has a distinct taste based on varying soil types and microclimates just in those 20 acres. We feel this variety is what makes Oregon wine country produce such fine and distinguished wines.
There has never been a better time to visit Oregon wine country. We are excited to see what harvest this year has to bring us and are proud to present our 2014 wine selection. Be sure to visit us this year for our silver anniversary and look forward to our 2015 wines next year. We are thrilled to share them with you!