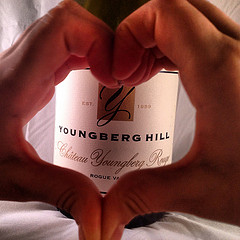 You may wonder why we wanted to take a moment this month to give all of our friends, visitors, guests, and fellow wine enthusiasts a warm thank you. We have a number of reasons to thank you all this year. We want to thank you for trying our wines. We want to thank you for joining our winemaker dinners. We want to thank you for challenging us to do better and to grow as a winery and an inn.
Recently, we won the Certificate of Excellence from Trip Advisor. Because this is such a customer-driven award, we were blown away by all of the fantastic reviews we received. It's not always easy for individuals to take the time to stop and write a review about a location they have stayed at or just visited, but many of you took the time. That action is more important than you may think – and here is why:
We read every review written about us that is on the internet. That is a pretty tough task, but we do it. This is not just because we like to pat ourselves on the back. We read these reviews because we want to challenge ourselves to do better.
Not only do we work hard to take time out and listen to our customers on the internet, we take the time to talk to visitors and guests while they are here. Our goal is to make your experience at our inn, vineyard, and winery the best experience possible.
People come to Youngberg Hill for many reasons. Some of our guests are bursting with joy on their wedding day. Others are looking for a good glass of wine, while still others are simply here to put their feet up and relax for a few days. Our goal is to meet the needs of every one of our guests.
Now, here are just a few of the many fantastic reviews for which we are so grateful. Again, thank you to the reviewers!!
Perfect Getaway
"Great hospitality and some of the best views in the area. Stayed here for 2 nights and it was the perfect spot to explore the wine region. The Inn manager was awesome, and the owners were on site to talk about the vineyard, which was nice. Very unpretentious, helpful hosts. We had a lovely time." – TripAdvisor Member May 24, 2015
Awesome
"This is our 4th visit to Youngberg Hill Inn over the past 15 years. We were very happy with our stay. You cannot beat the views, hospitality, or food. The wine tasting is also great. We were fortunate to stay in the beautiful Jura suite. The pictures on the internet are great, but even better in person. All rooms are nice. Mariafeld would be a close second choice of room, but all rooms are beautiful." – Margaret F. May 12, 2015
Bed and Breakfast Gem in McMinnville
"We have stayed in several bed and breakfasts in the Oregon wine country and this one is top on our list. Our room had a fireplace, but we didn't use it as the weather was fantastic. We had a balcony to an incredible view. There was a complimentary wine tasting each evening and the breakfasts were great. Nathan was the chef and he was super helpful." – Elaine B. March 22, 2015
Loved our tasting
"We stopped here one afternoon for a tasting. Becky, the friendly host, took a lot of time with us and we loved the gorgeous outdoor setting and views. Just beautiful. It made us wish we had booked a room here, too!" – TripAdvisor Member September 4, 2014
These are just a few of the 299 reviews written about Youngberg Hill Vineyard and Inn on TripAdvisor! So, thank you again for taking time out to tell us about your stay with us. Thank you for coming to visit us. We cannot wait to see each and every one of you again soon!