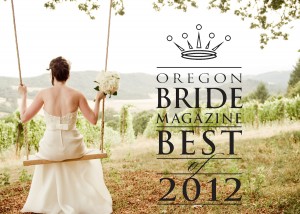 Oregon Bride Magazine  recently voted Youngberg Hill as the Best All-Inclusive Venue and Best Oregon Destination Wedding Site Statewide for 2012.  We have been honored and humbled to win such recognition in an industry where family-owned locations don't always garner as much attention as the large corporate venues.  We have been doing weddings at Youngberg Hill for the past eight years and enjoy being part of a couple's "new beginnings".  While the images of the bride and the vineyard countryside will take your breath away, it's our goal to otherwise have everyone breathing easier during a wedding at Youngberg Hill.
There are many components to a successful wedding, and finding the right location is key.  Our spectacular 360 view, the vineyard backdrop and complete outdoor venue all come together to make Youngberg Hill a stunning setting for the perfect wedding.
Like a lot of weddings, those on the Hill have their share of unexpected moments – from the flower girls and ring bearers that make everyone laugh; to the mother-of-the-bride who was asked to hold a glass of wine for a unity ceremony but drank it instead; to an NBA cheerleader's breakout dance performance!  Other moments, though expected, still draw the emotions to the surface – such as the look of happiness in the faces the newly married couple.  Very few things can top that!
To all of you who voted for us, thank you so much.  It means a lot to us to know that we are a part of so many brides' happy memories of their special day.  Here's to love!