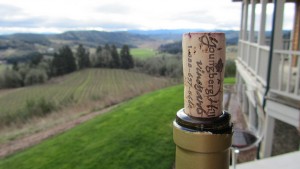 We have a series of winemaker dinners planned here at our Willamette Valley vineyard and elsewhere in the Willamette Valley this year. At the moment, we have dinners scheduled for: March 20th, April 17th, May 2nd, and May 30th. Stay tuned to our calendar for any changes in dates or additional winemaker dinners and local events.
We love hosting winemaker dinners for many reasons. There is great conversation, wonderful people, delicious food, and fantastic wine. We also get to share our passion and insight when it comes to winemaking. Our guests love our dinners too, and here's why:
Learning about wine
We are able to talk to our guests about the wine we create as well as the land and the region in which it is made. In our case, we both grow and create wine at our location in the Willamette Valley. This is a small enough event that we can discuss ins and outs as well as answer any and all questions without having to "work the room."
If you have specific questions about wine, winemaking, or our region of the world, this is the time and place to ask them.
Tasting uncommon wine
You won't find our Port anywhere in the "our wines" section of our website, but we are serving it at our March 20th winemaker dinner. You also get a chance to see what we as winemakers drink. It's not all Pinot, all the time. We're having a wonderful Champagne at the March 20th event too.
Understanding the "whys" behind pairing
Sometimes a pairing can sound odd, but taste amazing. Here's your chance to know why we chose a specific wine to pair with a specific recipe – or vice versa.
Eat, drink, and be merry
More than anything, winemaker dinners are there for us to make new friends, have wonderful discussions, eat amazing food, and sip on some glorious wine. We love the family and group aspect of these dinners, we love answering questions, but more than anything, we enjoy connecting with old friends and making new ones.
What question would you ask a winemaker? Comment below and we'll answer!