After what feels like a very long year, we can finally start thinking about our next getaway to wine country with a little less worry. When you're first looking for lodging, we suggest staying at our Inn shared with our sister winery, Youngberg Hill. It's truly the best Willamette Valley Bed and Breakfast for the most exquisite getaway. You'll be surrounded by our vineyards for both Bailey Family Wines and Youngberg Hill—and also get to drink both labels.
Our Willamette Valley Bed and Breakfast is perched on a hill overlooking the vines and workings of the winery. From the deck and our luxury guest suites you'll take in one of the most amazing views in Oregon wine country: below, the rolling 50 green acres of vineyards, farmlands, and lush foothills, above, an expansive northwest sky with a stunning Coastal Range backdrop. Stay with us and it might just be the most beautiful sunset you've ever experienced.
At Bailey Family Wines, making biodynamic wine is our passion, but on a stay at our Willamette Valley Bed and Breakfast, you'll see very quickly that hospitality is something we fully enjoy. Engaging our guests with wine tastings, preparing a gourmet 2-course homemade breakfast, and helping people plan the best itinerary in the Willamette Valley is all part of what we do best. Start planning your next vacation in wine country and book at our Willamette Valley Bed and Breakfast today.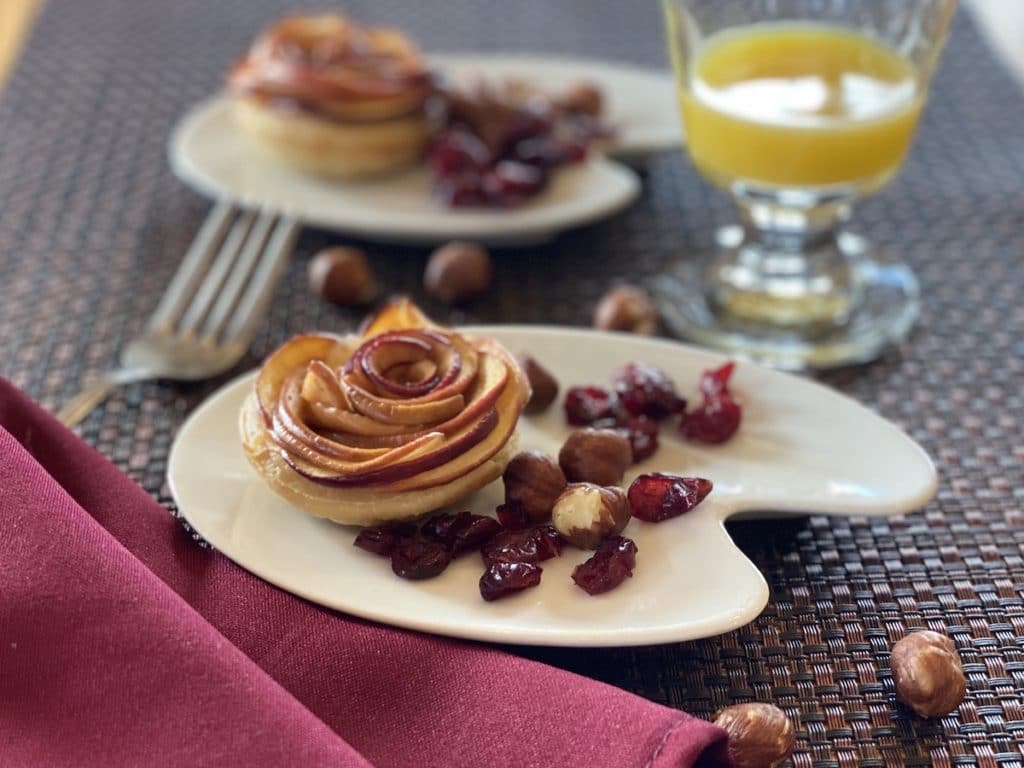 5-Star Lodging and Dining at our Willamette Valley Bed and Breakfast
Our Willamette Valley Bed and Breakfast is only 10 minutes from Downtown McMinnville. As you'll enjoy plenty of amazing wine from our vineyards on your stay, our neighboring wineries are amazing to visit and taste the diversity of wines in the area.
Here are 8 reasons to stay at our Willamette Valley Bed and Breakfast on your next getaway:
From the minute you turn off the main road and head up the drive, the beauty of our winery and farm will sweep over you. Our Willamette Valley Bed and Breakfast sits like a crown on the hilltop, welcoming guests and creating a lovely gathering space.
Our 9 guest suites offer an array of configurations for a comfortable stay. All have a sense of old world ambience paired with modern appointments. Plush robes, crisp white linens, and pillow-top beds await to wrap you up in calm. Private bathrooms are equipped with double showers or jacuzzi tubs.
All rooms offer a place to cozy up in a comfy chair by the fireplace with a glass of wine and let the relaxation and rejuvenation begin.
In the morning, you'll find us in the kitchen preparing an elegant and fresh 2-course meal. Coffee and tea is always on, though in our opinion, breakfast is best served with a mimosa, which is an easy request to fill. We pride ourselves in using organic and farm fresh ingredients whenever possible, and our menu changes with the seasons. Currently, we're delivering your meal directly to you room, who doesn't want breakfast in bed?
Our vicinity to downtown McMinnville (only a 10-minute drive) puts you right next to the action of shopping, sightseeing, breweries, and dining, but you'll feel a world away out in the heart of wine country. Luckily, there are more than 150 tasting rooms within 20 minutes from our Inn.
For those who love an outdoor adventure, our Willamette Valley Bed and Breakfast is within close distance to amazing hikes through the state parks and forests, bike tours with winery routes, and hot air balloon rides or curated wine tours.
We offer a handful of special packages and add-ons to personalize your stay here. If you're coming for a birthday celebration, we can have a cake for two, flowers, a card, and personal wine glasses ready and waiting for you in your room. It's a nice surprise touch to make the birthday person's day all that more memorable.
As a guest at our Willamette Valley Bed and Breakfast, your Youngberg Hill tasting fees are waived. And you'll also receive half off on our exclusive Bailey Family Wines tastings—which includes a sit down tasting of our newly released vintages, nibbles of cheese and snacks, and one of our wine ambassadors as your host for a full rundown on our biodynamic farming methods, vineyards, and the wines, of course.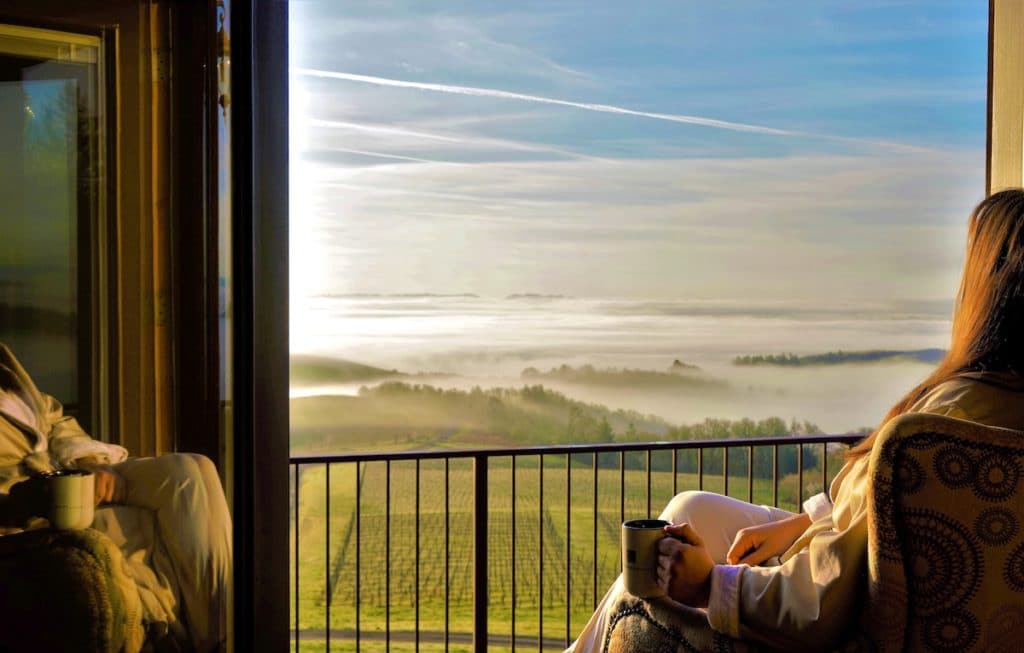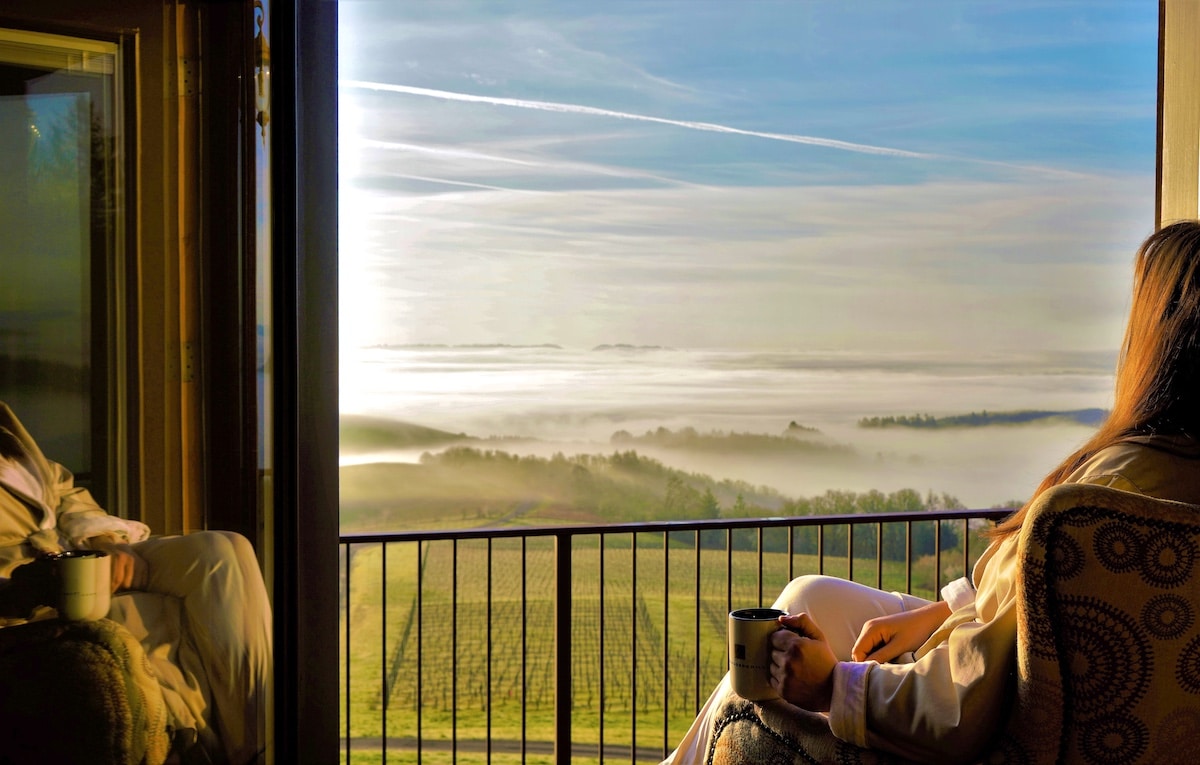 Plan a Romantic Getaway at our Willamette Valley Bed and Breakfast
There's nothing more romantic than an intimate getaway to wine country. Our Willamette Valley Bed and Breakfast sets the stage for a relaxing and private vacation where you and your special person can come to rekindle the fire or fan the already roaring flames. We offer romance package add-ons for an incredible welcome to your guest suite, where you'll find a bottle of our sister winery's Youngberg Estate Pinot Noir, special Pinot glasses, and a beautiful spread of snacks and chocolate.
If romance is what you have in mind, our Martini Suite is the ultimate choice. Our comfy King faces the large panoramic windows for the best view of the mountains and vineyards without even stepping foot out of bed. The spacious private bath offers a Jacuzzi tub and separate shower. Start and end the day on the balcony, breathing in the fresh country air. Check our availably and book with us today!