One of the most popular attractions in the Willamette Valley (aside from all of the amazing wineries) is the Evergreen Aviation Museum just outside McMinnville. The museum is dedicated to showcasing the history of flight with a wide array of exhibits and interactive displays. Roaming though the airy hanger-like Evergreen Aviation Museum is a lovely way to spend a thoughtful afternoon navigating the large aircraft. Some parked on the museum floor, while others suspend from the ceiling.
There are more than 50 military and civilian aircraft, drones, and spacecraft items at the Evergreen Aviation Museum. One of the most well known displays is the Hughes H-4 Hercules, as known as the Spruce Goose. This famous plane was acquired from The Walt Disney Company and after a long, detailed restoration the huge showstopper was revealed at its new home at the museum in June of 2001.
Our McMinnville Bed and Breakfast in the Willamette Valley is less than a 20 minutes drive to the Evergreen Aviation Museum. It's a great outing to add to your itinerary, in between all of those wine tastings, of course. Head out to the museum after an exquisite homemade breakfast at our Inn, which is included in your stay. It's the perfect way to start the day, refreshed and caffeinated for a tour of some of the coolest old planes and space memorabilia in the world. Book your room at the Youngberg Hill Inn today!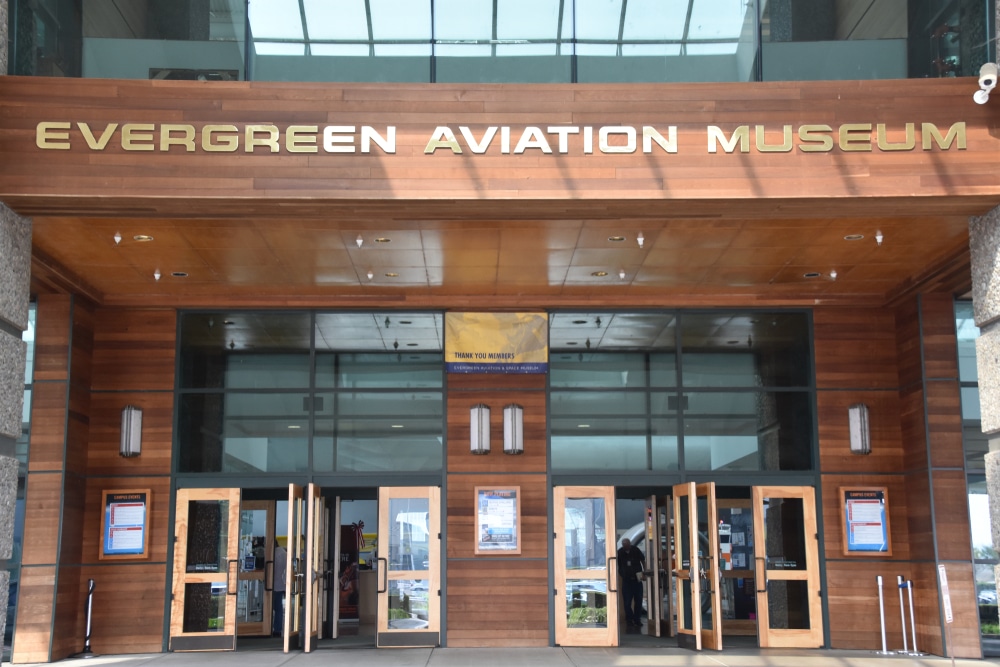 Enjoy the Sights and History at the Evergreen Aviation Museum
A day exploring the history of flight at the Evergreen Aviation Museum is really a treat. Even if you're not a huge aircraft or space flight fan, you'll be shocked by the mere size of these displays. It's just something you have to see in person to really grasp the scale of these flying vehicles. Here are some details about the museum itself and a few nearby activities to check out after as well.
The Evergreen Aviation Museum first opened in 1991, then known as just the Evergreen Museum. The original collection was a small group of vintage aircraft, which makes the current count of more than 50 aircraft, spacecraft, and huge installations like the Spruce Goose, all the more impressive.
Some of the other big exhibits are planes from the Vietnam, WWI, and WWII-era aircraft.
Another popular exhibit is the flight simulator ride, where guests can choose the type of flight and feel like they're actually piloting a jet.
Additionally for the true aviation hobbyists there are curated collections with photos, drawings, and historical records of all kinds at the Evergreen Aviation Museum.
Currently, the Evergreen Aviation Museum is running at limited capacity of 50 guests at a time. It's strongly advised to set up a reservation online before you go, so you don't end up having to wait for a long time for admission. Which you can do here.
Thankfully, the space is large and roomy, making social distancing a breeze.
After the Evergreen Aviation Museum, head to downtown McMinnville
If you're ready for some fresh open air, pop over to Joe Dancer Park. Stretch your legs on the forested trail, which is just over a mile long and takes you through a wetland for some nature gazing. This 100-acre park is home to soccer and ball fields, so you'll most likely catch a glimpse of the McMinnville youth playing sports.
Next up, you should probably get back to tasting some delicious Oregon Pinot Noir. Downtown McMinnville has many options for pop in wine tastings, charming lunch spots, and elegant dinner houses. Check out our list of the 10 best things to do in McMinnville this summer to get a plan in order.
Once back at our Willamette Valley Bed and Breakfast and Winery, you'll want to first join us in the tasting room for wine from both Youngberg Hill and our sister winery Bailey Family Wines.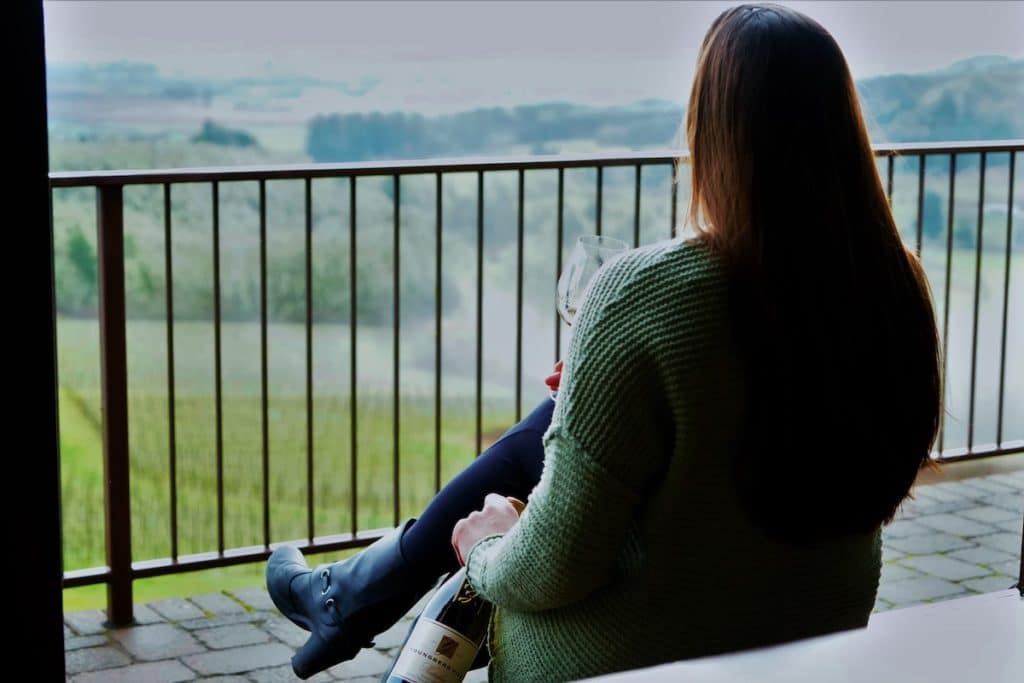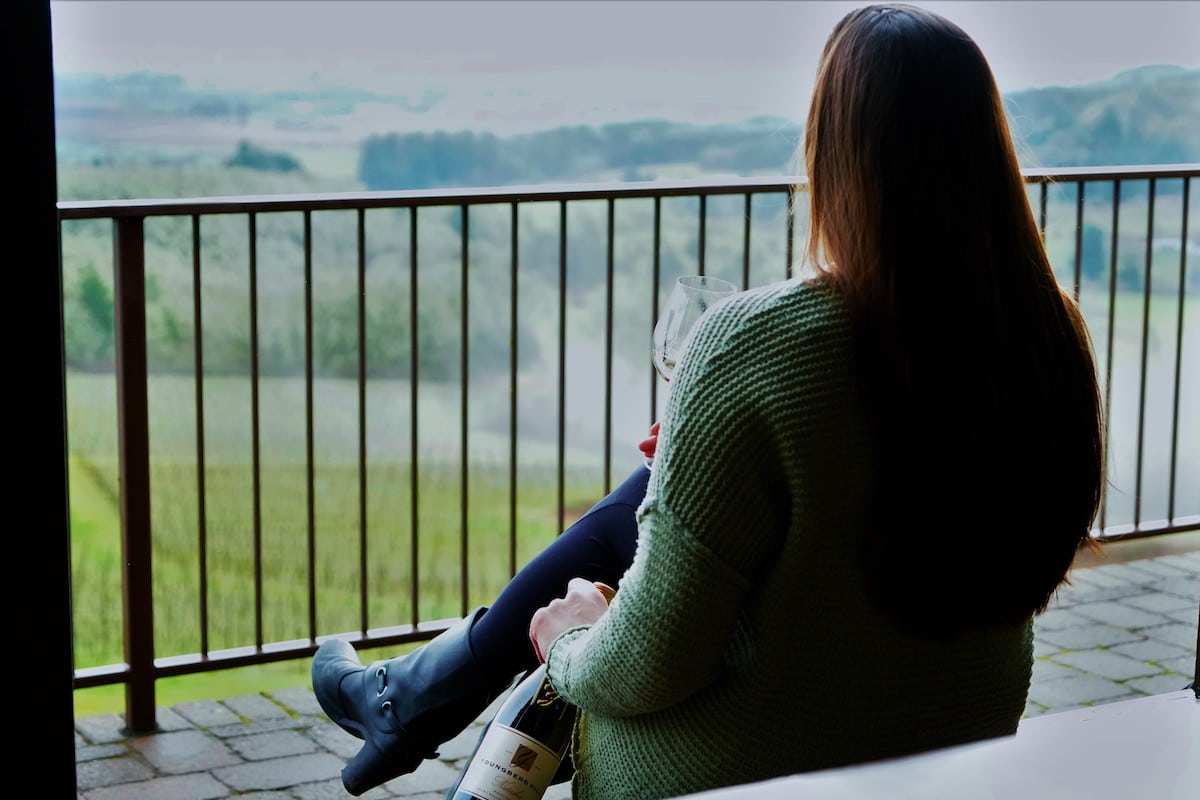 The Best Bed and Breakfast near McMinnville for a Luxury Stay
The first thing everyone takes note of when they arrive at our Willamette Valley Bed and Breakfast is the view. It is astounding! Our location on a hilltop surrounded by vineyards and the mountains bursting from the valley, is just a magical sight. Next we'll get you checked into your luxurious suite and get a glass of Pinot in hand to start your wine country adventure off on the best foot. Our Inn offers expansive space for leisurely strolls and quiet conversations among the vines.
Back at the Inn, you'll find ultimate comfort in our elegant and modern guest rooms. All of the rooms are appointed with crisp, clean linens and plush robes, private baths (some with jacuzzi tubs and others with double showers), and picturesque views. Our staff is happy to assist in any way possible to make your stay exceptional, let us know if you need reservations, want advice on wine tasting options, or would just love to hear some insiders knowledge on the area. Book your room at our amazing vineyard and bed and breakfast today!