Summer is absolutely beautiful in Oregon, especially in Willamette Valley wine country. Downtown McMinnville is the largest town in Yamhill County and it's a great little hub of activity adjacent to acres of vineyards and hundreds of award-winning wineries. One big draw of downtown McMinnville is the historic Third Street, a 6-block charming tree-lined main street with the majority of the eateries, bars, shops, and activities for visitors. It's really a treat for a lunch date, stroll in the park, shopping for gifts, or a quick drink.
While many of the yearly big events won't be taking place this summer, the small businesses in downtown McMinnville will continue to implement safety protocols and rely heavily on a successful busy summer season. Our Willamette Valley Bed and Breakfast is in the best location for a getaway to downtown McMinnville and the surrounding wineries. We're only 15 minutes from the downtown area, but you'll feel a whole world away when you take in the breathtaking view from our Inn.
Youngberg Hill Winery and Inn sits atop a hill, the crown jewel overlooking our 50-acre estate and vineyards. There's really no other place like it on the planet. On your stay with us, you'll get to experience this beauty, all while enjoying world-class wines from Youngberg Hill and our sister label Bailey Family Wines from our small block vineyard vintages. Start planning your next ultimate wine country vacation to the heart of the Willamette Valley. Book your room today!

The Best Things to do in Downtown McMinnville This Summer
Whether you see yourself as a wine connoisseur or a novice oenophile, a trip to Oregon's wine country has something for everyone. That's especially the case in downtown McMinnville, from local shops, restaurants and cafes, historical architecture and galleries, to all kinds of outdoor adventures, there's more than enough to choose from for activities. Let us give you a short list of some of the best summertime things to do while here.
Wine Tasting: While staying with us at our Willamette Valley Bed and Breakfast you'll have the opportunity to taste some amazing wine from Youngberg Hill and Bailey Family Wines, but you'll also be impressed by the tasting rooms in downtown McMinnville as well. We recommend Brittan Vineyards, The Eyrie Vineyards, Willamette Valley Vineyards, and Goodfellow Family Cellars.
Good Eats: There's a lot of culinary talent in this part of Oregon and McMinnville is highly regarded when it comes to fine food. We also have easy access to fresh and local produce, meats, and cheeses from nearby farms. Some of our favorite restaurants are Bistro Maison for authentic French, Nick's Italian Cafe, 1882 Grille for up-scale pub grub, and La Rambla for Spanish tapas. Many have outdoor areas for dining and all are offering to go options.
Craft Cocktails: Taking the time to sit and enjoy a summertime cocktail with a friend is a must on vacation. Find seasonal drinks at Thistle Restaurant, Conservatory Bar, and The Oak in downtown McMinnville.
Farmer's Market: Every Thursday from noon-6pm from May to October more than 60 vendors pop up in downtown McMinnville next to the City Hall building for the seasonal Farmer's Market. Find everything from fresh flowers and produce to homemade local products, jewelry, and artwork.
Third Street Art Galleries: Along the historical main street in downtown McMinnville you'll find six fantastic galleries and studios within walking distance to create your own tour. It's always a treat to explore the beautiful grounds of our local university at Linfield College.
McMinnville City Parks Tour: There's a 17-mile loop for city hiking and biking with stops at 10 different parks along the way. You can make a whole day of it, stopping for a rest or a picnic here and there at one of the many picturesque green spaces. It's a great way to get a lay of the land of our little historic city of McMinnville.
Evergreen Aviation and Space Museum: This is one of the largest and most popular attractions in the downtown McMinnville area (besides all the wine, of course). There are more than 50 exhibits of military and civilian air and space craft, an IMAX theater, and a water park. It's especially a must during the warm summer months.
Support Local Shops: Find unique gifts, local hand-crafted pottery, antiques, and boutique clothing and shoes all in the downtown area of McMinnville. It's been a difficult year for these small businesses and sometimes even the tiniest sale is a big deal.
Day of Pampering: On your excursion exploring McMinnville, treat yourself to a mani-pedi, massage, or facial. Relaxation is a big part of getting away and the professionals at the local spas and salons are experts at helping you unwind and reset.
Wine Wednesday at Youngberg Hill: During the spring and summer, we offer some really fun extras at our winery. On "Wine Wednesday" we might be hosting trivia, a sip and paint night, or maybe even have a psychic available for a reading, all while sipping on some fantastic wines. Thankfully, starting June 16th, music is back from 6-8pm and The Wandering Vine food truck for delicious eats.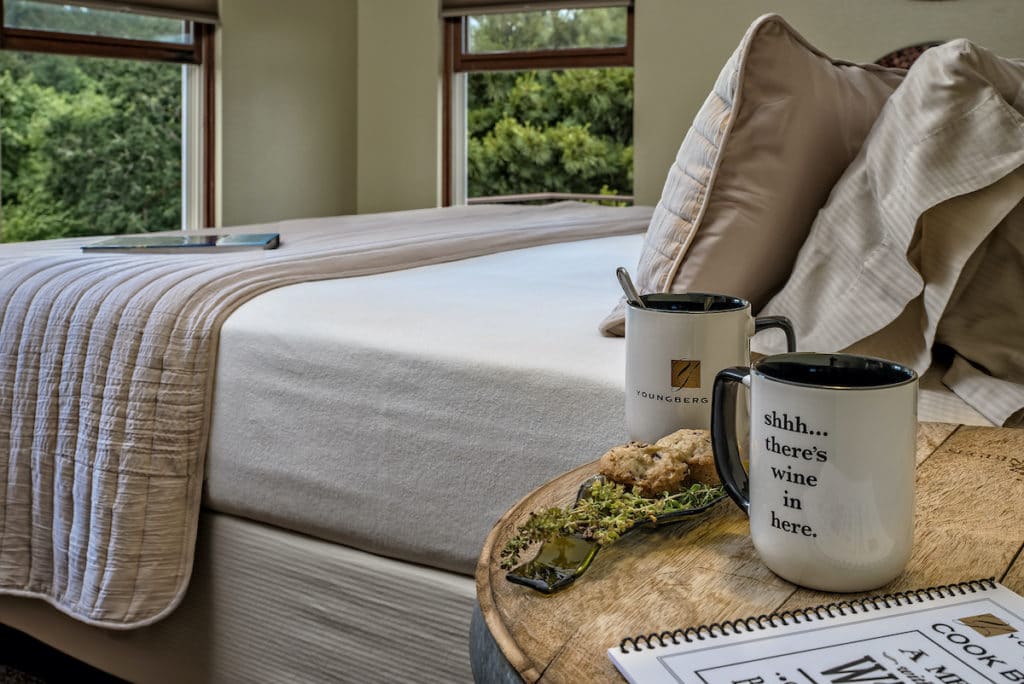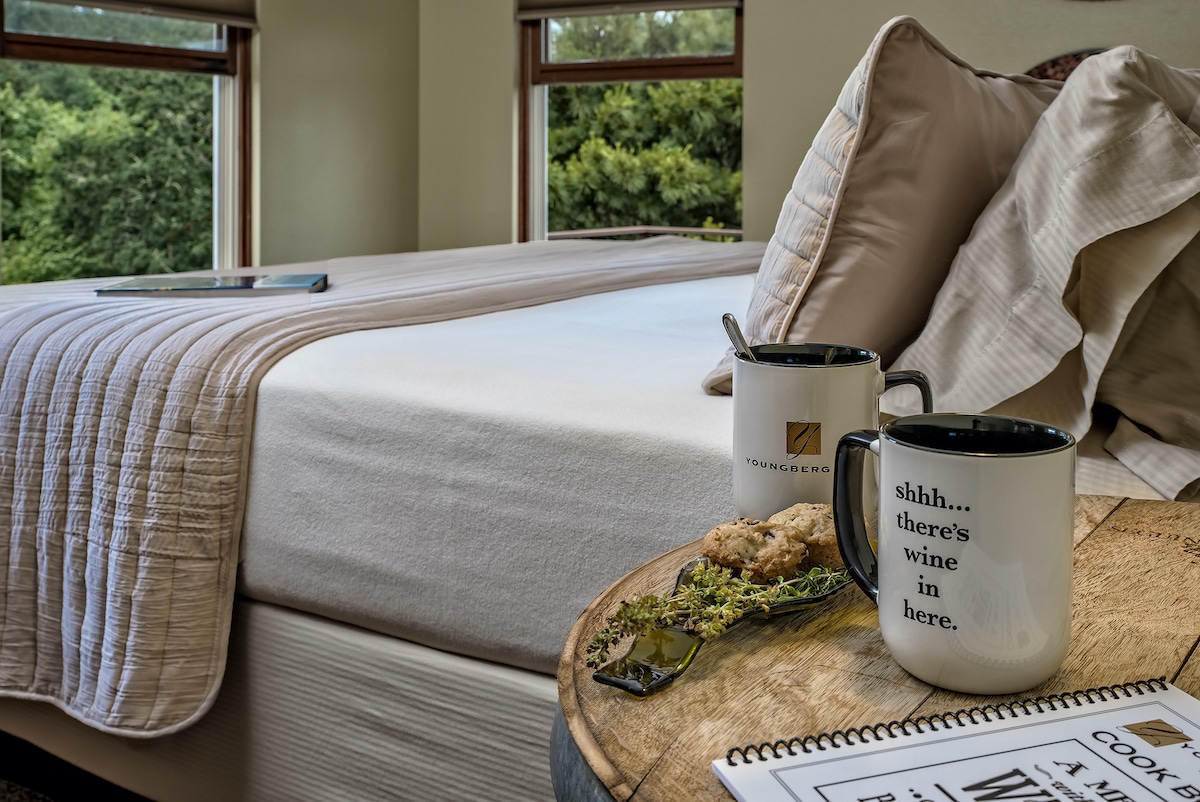 Luxury Lodging in the Heart of Willamette Valley Wine Country
It feels like we're inching closer to a collective sigh of relief, as we move further into 2021 and back into the warmer months. Summer means more outdoor seating, walks in the sunshine, and time for a much needed vacation. When you stay at our McMinnville Bed and Breakfast there will be no worry about crowds or if you'll have the space to social distance. Our spacious Inn has expansive outdoor areas and with only nine guest suites, you'll have privacy and quiet to put your mind at ease.
Whether you're looking for a romantic getaway, a weekend away with friends, or a solo experience, our Willamette Valley Bed and Breakfast can accommodate each of those to a tee. In the morning, allow us to take care of your morning meal, currently we're delivering it right to your door, so you can enjoy our seasonal options in the comfort of you own guest suite, while taking in the spectacular view of the vineyards below. We're looking forward to your next visit! Check our summer availability and book a room today.