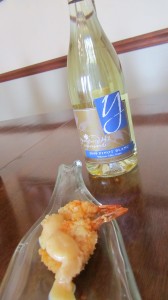 Wine & Chocolate go together like bread and butter and they go particularly well around Valentine's Day.
We had a wonderful time doing yesterday's event and want to thank everyone who came to our Not Your Mammas Chocolate event on The Hill.  We paired our library wines with great chocolate appetizers, Yum!  We had many new faces join us, that I'm sure will become familiar as they come back to see us.
We also had a couple get engaged up on The Hill yesterday. It was a big surprise.
One of our pairings was shrimp with a white chocolate/grapefruit sauce paired with our 2009 Pinot Blanc.