There's nothing like a glass of Oregon wine after a day of bundled-up hiking, driving or sightseeing through the fields, forests, sidewalks, and backroads of Western Oregon in fall, and Willamette Valley wine is among the finest in the world to relax with. According to Wine Enthusiast magazine, the region's mild, cool, moderately wet climate creates wines that "are often considered the bridge between California and Burgundy style."
And our Willamette Valley Bed and Breakfast is the perfect place to begin and each day of Oregon wine adventure, with our luxuriously appointed guest rooms, delicious gourmet breakfasts, and breathtaking mountain, valley and vineyard views. Reserve your room today at our Willamette Valley Bed and Breakfast!
Try Some of Our Favorite Oregon Wine This Fall
Here are some of our favorite Oregon wine vintages from Willamette Valley wine country that pair well with the region's cooling weather and deep natural color:
Bailey Family Wines 2017 Pinot Noir. In the words of one influential wine blog, "in fall, all food roads lead to Pinot Noir," and Willamette Valley Pinot Noirs are among the best in the world. Ours is a dusky garnet red, with a nose just as alluring as it tastes with an oaky blend of mushrooms, fresh milled cedar, and campfire.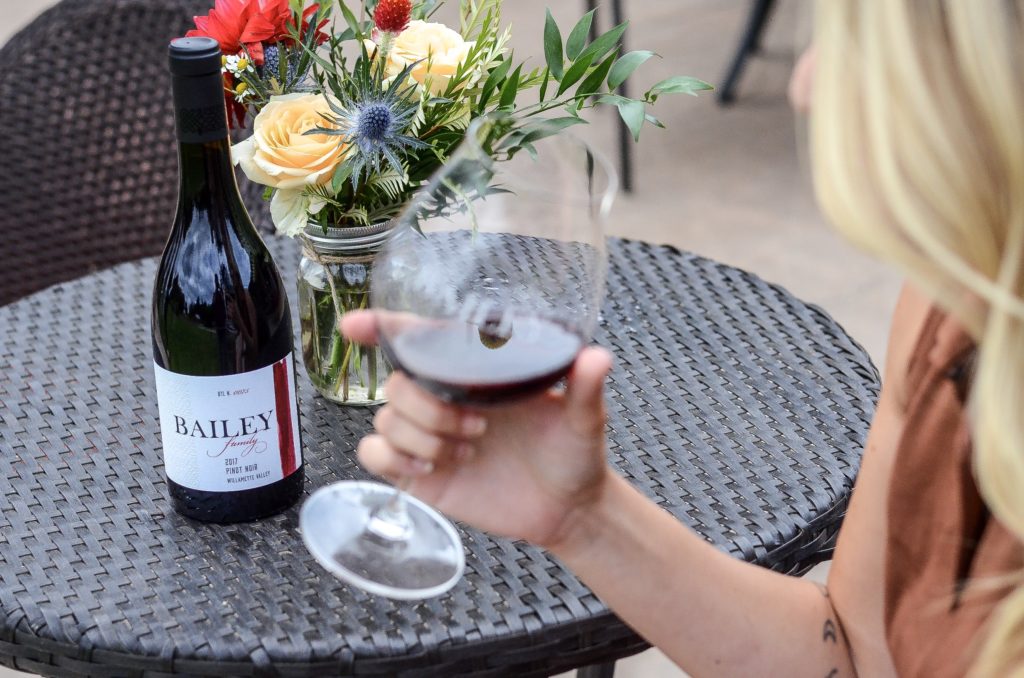 Where to Stay to Sample Great Oregon Wine This Fall
Willamette Valley's cool climate is perfect for growing Pinot Noir and other great kinds of Oregon wine, but the valley also produces exceptional Riesling, Chardonnay, Pinot Gris, and Pinot Blanc. And there are more than 600 Willamette Valley wineries in which to find them. Start your journey at our award-winning biodynamic winery and our Willamette Valley Bed and Breakfast, and we'll introduce you to the best Oregon wine in the region.  Start planning your adventure through Oregon's wine country today.