We're patiently counting down the days until we can welcome guests back into the fold at our winery and Bed and Breakfast near McMinnville. If you were to come to the Willamette Valley now, you'd find it quiet and eerily empty. No one is traveling and wine tasting in the area, which is unusual during these beautiful spring months. Rest assured, though, businesses and winemakers throughout the Willamette Valley are still working hard behind the scenes, even when you're not here, making sure we'll be ready the moment it's determined safe to travel again.
As soon as Oregon's wine country does open for business, you can be assured that our Bed and Breakfast near McMinnville is both a safe and comfortable place to stay.  The Inn is situated atop a hill on a beautiful 50-acre farm, overlooking our vineyards and the expanses of Willamette Valley beyond. Moreover, Inn guests always enjoy discounted wine tasting in our tasting room.  Plan a much-needed getaway this summer, and book your room at our Willamette Valley Bed and Breakfast today.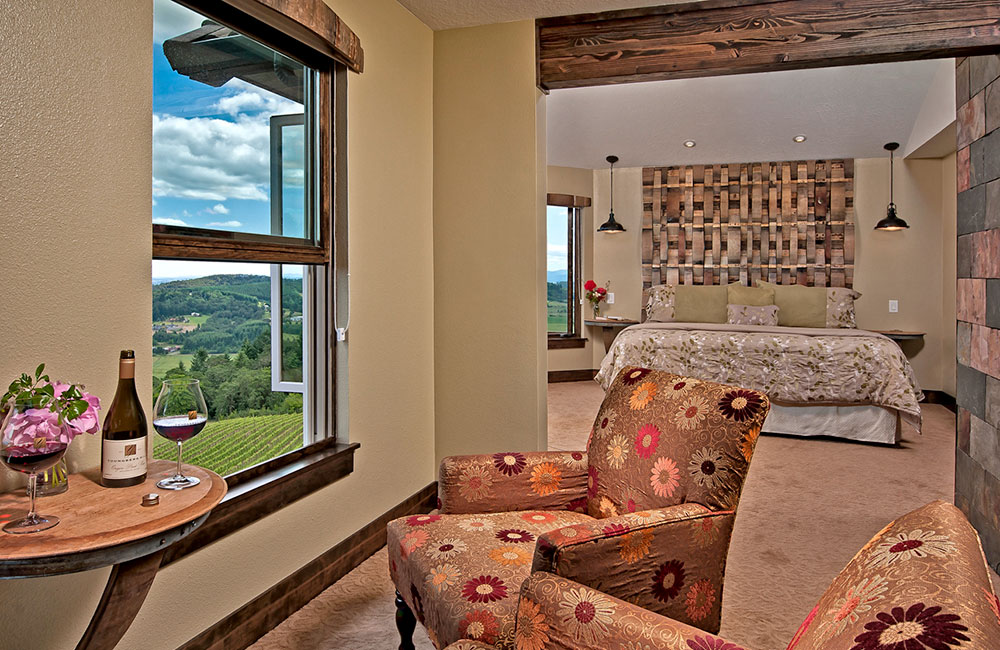 The Best Bed and Breakfast Near McMinnville
There is certainly no shortage of places to stay in the Willamette Valley, but there are none that offer quite the same experience as our luxury Bed and Breakfast near McMinnville. Our Bed and Breakfast is the perfect place to rediscover your passion for life and to learn about and taste wines from our organic and biodynamically farmed vineyard in Oregon's Willamette Valley. We're passionate about the land we live on, of course, but we're equally as passionate about the experience you have when you choose to stay at our McMinnville Bed and Breakfast.
With just 9 guest rooms, a chance to stay at our luxury Bed and Breakfast near McMinnville is an experience only a lucky few get to have each year. From the vineyards just beyond your windows to the Willamette Valley and coastal range stretching into the horizon, you'll enjoy Oregon's breathtaking beauty from sunrise to sunset, and every moment in between. Our guest rooms feature queen or king-sized beds, luxuriously appointed and private bathrooms, and gas or electric fireplaces, while some enjoy sweeping panoramic views and private decks or balconies.
Each morning of your stay starts with our delectable gourmet 2-course breakfast, served fresh to you in our dining room at 9 am. We're happy to offer you concierge service as well, helping you to tailor your experience to be exactly what you envisioned. There's so much to do in Oregon's scenic wine country. We'd love to help you make the most of it.
As the day unfolds, be sure to enjoy a sip or two of wine in our tasting room, open daily from 10 am – 4 pm.  Inn guests receive a 50% discount on our Youngberg Hill and Elevated tasting experiences.  We also encourage you to sip wine from our wrap-around porch, which offers 360-degree views of the surrounding area.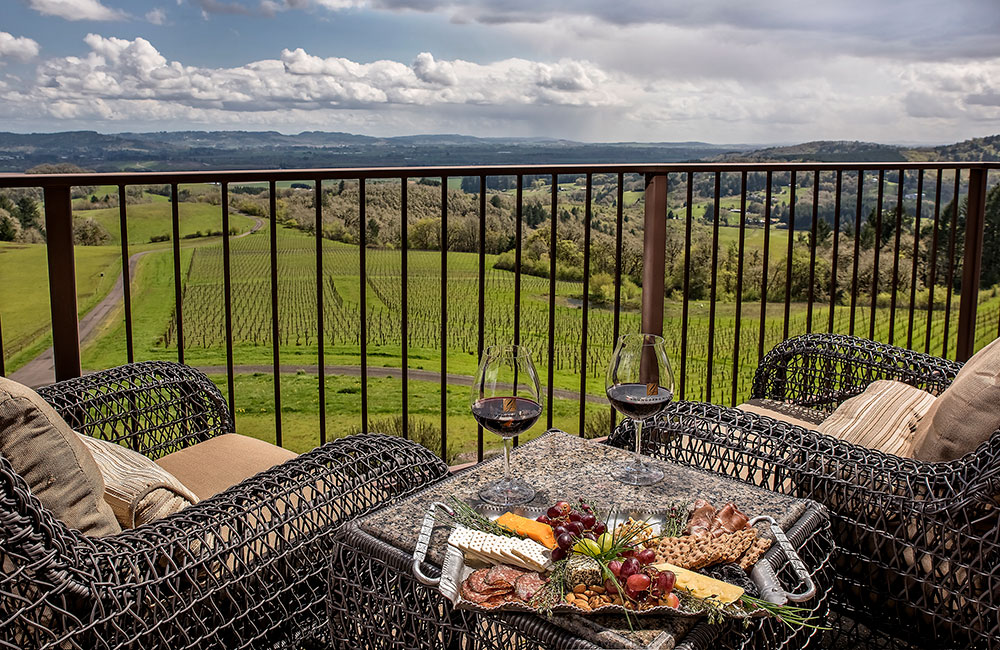 Things to do in Oregon's Willamette Valley
Though there's little reason to leave the quiet luxury you'll encounter at our Bed and Breakfast near McMinnville, there are plenty of things waiting for you should you decide to do so. Here are a 5 of our favorite activities to recommend to guests who are visiting us in Oregon's Willamette Valley:
There are more than 120 vineyards, wineries, and wine tasting rooms within 20 minutes of our Bed and Breakfast.  It goes without saying that at the top of your "must-do" list is visiting as many of these as you are able. There are few things more perfect than spending a day traveling vineyard to vineyard, followed by a gorgeous sunset, a glass of wine in hand, from our porch.
As the weather warms up, it's the perfect time to enjoy some of the great outdoors. Bike tours of Oregon's  Willamette Valley are a fun way to take in the scenic countryside, all while enjoying a few sips of great wine along the way. If you need more time in the outdoors, consider taking a day trip to Oregon's beautiful coast, visiting the Columbia River Gorge, or places like Silver Falls State Park.
Wander the historic streets of downtown McMinnville before stopping at one of the city's top-rated restaurants. McMinnville restaurants are well known and have made this one of the best small towns for foodies.
Take in views of the valley from entirely new vantage points. Hot air ballooning and helicopter tours over Oregon Wine Country is not only beautiful, but it's fun.
McMinnville isn't just a great place to enjoy good food and wine. McMinnville is also home to more delicious tastings, with plenty of locally-made craft beer, cider, and spirits to sample
It's been a long spring. We can't wait to reopen and show you Oregon as it was meant to be seen. There's nothing quite as restorative as a few days spent at our luxury hilltop Bed and Breakfast near McMinnville. Elevate your wine country experience, and spend a few days with us this summer.  Book your room today!