Willamette Valley Pinot Noir wines are considered to be some of the best in the world. In 2016, Wine Enthusiast Magazine named the Willamette Valley as their wine region of the year. Every year since the popularity of Oregon wines has increased dramatically. If you've yet to find the time to visit Oregon wine country, this summer might just be your perfect opportunity.
The Willamette Valley is currently closed to travelers due to the global COVID-19 pandemic. Despite the closure, winemakers around the valley are still tending their vineyards and fine-tuning their craft, hoping to bring you yet another delicious vintage.  This summer, wineries around the valley will be eager to open to guests again. Moreover, after this long closure, it will be important to support this industry so they'll continue to produce the wines we've come to know and love as some of the world's best.
Oregon wine country's cool climate is perfect for producing Willamette Valley pinot noir, but it's certainly not the only wine grape grown here. The valley also produces exceptional riesling, chardonnay, pinot gris, and pinot blanc. In total, there are more than 600 Willamette Valley wineries to visit. Start your journey at our award-winning biodynamic winery and bed and breakfast, and we'll introduce you to the best Willamette Valley pinot noir around.  Start planning your adventure through Oregon's wine country today.

The Best Willamette Valley Wineries to Visit
Youngberg Hill was recently listed by WineCountry.com as one of the 10 best places to visit in Oregon's Willamette Valley.  Out of the 600+ wineries in the area, to be chosen for this list is an incredible honor. Highlighted in the article were our tasting experiences. Enjoy the perfect introduction to wines produced on our estate with the Youngberg Hill Tasting. Each wine offered in this wine tasting experience reflects the rich diversity of the Youngberg Hill Terroir. You'll spend the 1.5 hours learning from professionals about the area and our estate, and of course, tasting a variety of wines.
Take the wine tasting experience to a new level with our Elevated Tasting Experience, which is a journey through our limited-release special label wines led by our winemaker, Wayne Bailey. In 2018, Wayne was selected as one of the top 10 winemakers in Oregon.  His knowledge and passion for the industry is second to none and will come shining through when you taste the Bailey Family Wines. For an even more intimate experience at our winery, consider booking the Winemaker Tour & Tasting. You'll spend a minimum of 2 hours touring our vineyards and learning about every aspect of winemaking and farming that goes on behind the scenes at Youngberg Hill and Bailey Family Wines.
While our Willamette Valley pinot noir and other wines are truly delicious and should be the focus of your visit to our tasting room, don't miss your opportunity to enjoy our view.  The view alone is worth the trip to the top of our hill. Our porch offers a breathtaking 360-degree view of the Willamette Valley and Coastal Mountain Range. Relax, appreciate the beauty of the world around us, and sip wine made from grapes grown right here at our organic and biodynamically farmed vineyard.
Other Willamette Valley Wineries included on this list of places to visit include:
Producing the Best Willamette Valley Pinot Noir
While it was a great honor to be included in WineCountry.com's list of wineries to visit in the Willamette Valley, we were even more honored to be included on a list of leaders in the production of biodynamic wines. Organic farming utilizing sustainable and biodynamic practices is at the heart of everything we do in the production of both Youngberg Hill and Bailey Family Wines.  It's our belief that these practices have led us to some of the best Willamette Valley pinot noir, chardonnay, and other wines; wines that fully reflect the vineyard and its terroir.
According to the recent article in Wine Industry Network Advisor, Oregon wineries are leading the world in integrating biodynamic practices into our vineyards. That's a surprising statistic, given that Oregon only produces around 1% of the wines grown in the United States. Even so, more than half of the vineyard acres that are certified biodynamic from Demeter USA are in Oregon.
Though Youngberg Hill and Bailey Family Wines aren't among the 15 officially certified biodynamic wineries, we're among the other 30 that utilize organic and biodynamic practices in our vineyards. We've also been certified "Sustainable" by the Oregon Wine Board, along with other 3rd party sustainable certifications.
The state of Oregon has long valued sustainability and has a history of protecting its farmland. It's one of the many things that making farming and winegrowing in Oregon's Willamette Valley so wonderful. Moreover, our winemaker, Wayne Bailey, has deep roots in farming that started during his childhood in Iowa. As a result of these practices, we're so thankful to have been able to tell the story of this miraculous place, one delicious bottle of wine at a time.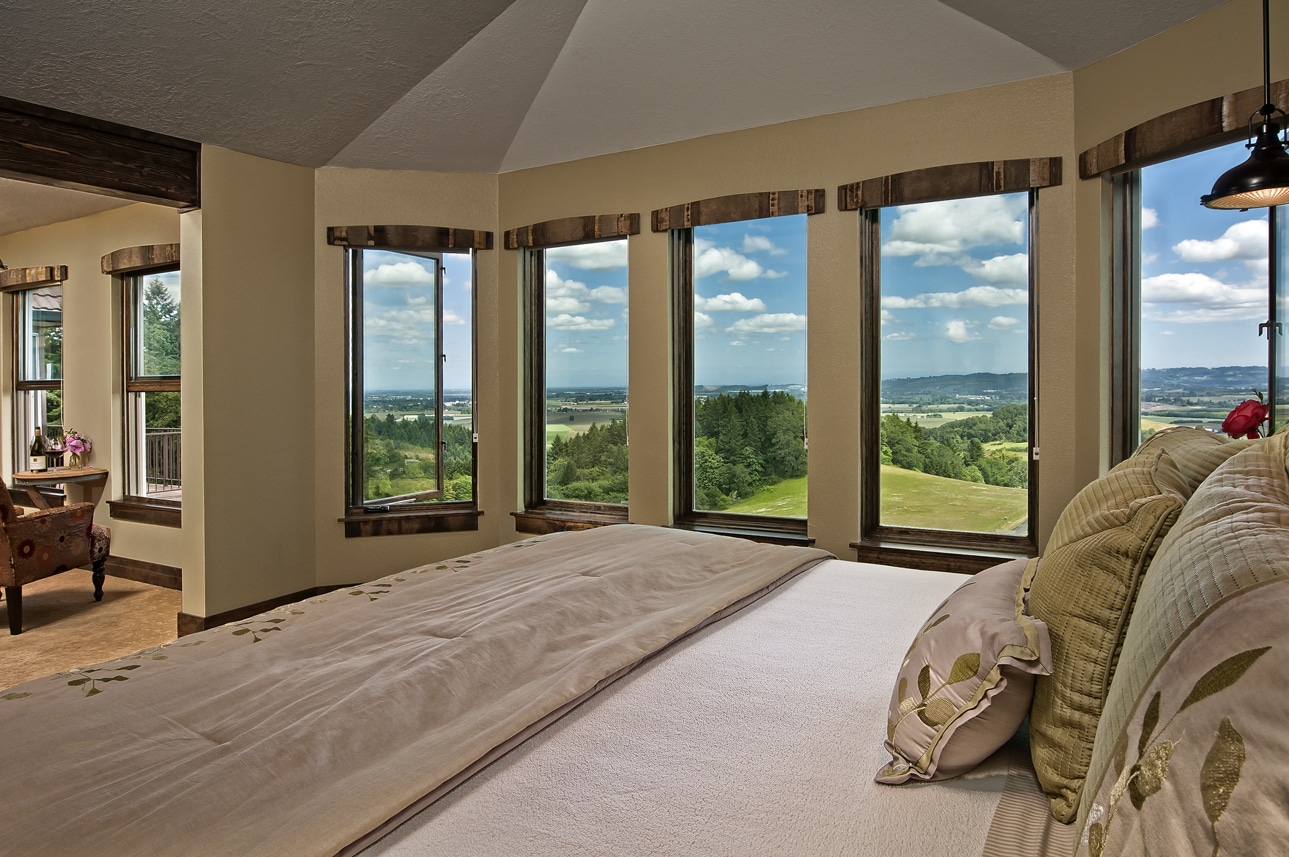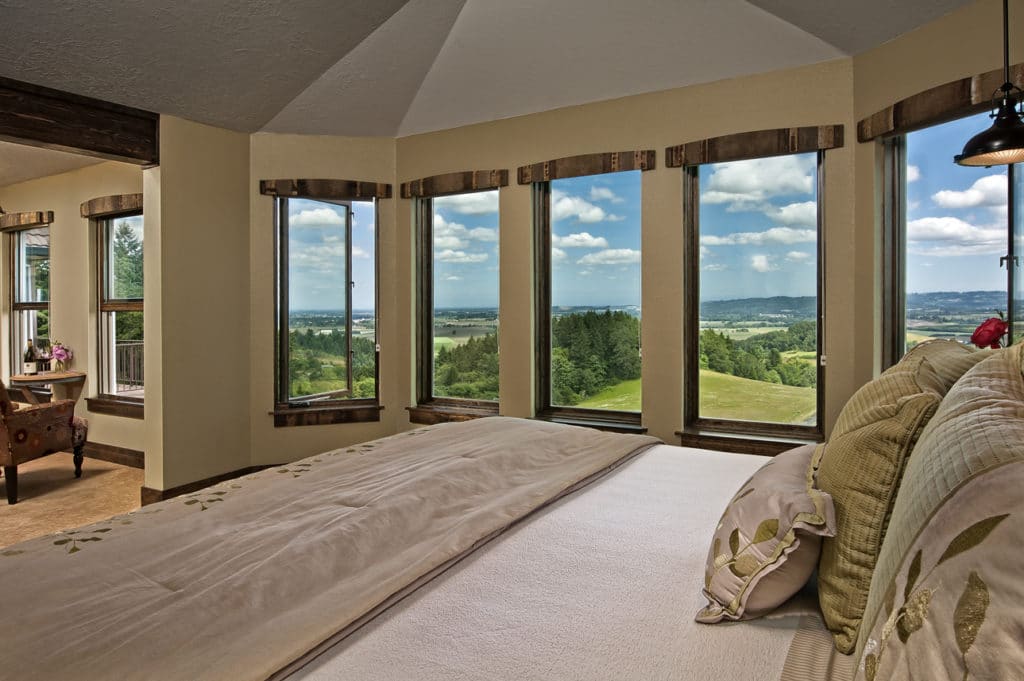 The Best Willamette Valley Lodging
Tasting Willamette Valley pinot noir onsight at local wineries is a bucket-list-worthy adventure, and one we hope you have sooner rather than later. But to enjoy a fully-immersed vacation in Oregon's Wine Country, you'll need a place to stay. Give yourself the ultimate wine country experience, and extend your stay to our luxury Bed and Breakfast.
With 9 guest rooms to choose from and unmatched hospitality and attention to detail, you won't find a lodging experience in the Willamette Valley that compares to ours. It's time to start dreaming and to maybe even start planning future adventures through Oregon's Willamette Valley.