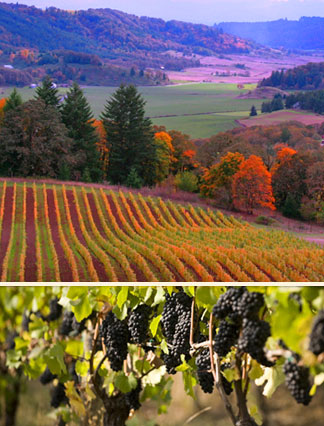 If you're interested in sampling some of the country's finest Pinor Noir wines, then fall is a wonderful time to plan a trip to Oregon Wine Country. Throughout the fall months, the hillsides across the Willamette Valley are radiant with the colors of fall.  Deep purple grapes are set against a backdrop of the brilliant oranges, bright yellows, and deep reds associated with the harvest season.  Driving through the valley is stunning, only made better when you stop in our amazing tasting room to sample the wines produced here.
As we head into the fall months, Willamette Valley Wineries are busy getting ready for the harvest season.  If you're looking for some harvest-related fun, then head to the 23rd annual Grape Stomp and Harvest Celebration at Willamette Valley Vineyards on September 21st and 22nd.  Visitors from all over the country compete in teams for the title, as well as to earn a trip to Santa Rosa, California for the World Grape Stomp Championships.  Come dressed in costumes, enjoy the live music, and get ready for some great family fun in Oregon Wine Country.  On Saturday, October 5th, spend the day with the North Willamette Vintners as they prepare for the 2013 Oregon wine harvest during the North Willamette Harvest Trail and Grand Tasting.  Here, you'll learn all about the wine harvest, and enjoy a guided bus tour to three different Willamette Valley wineries for tastings and other harvest-related activities.  At Youngberg Hill Vineyards, we're always looking for volunteers to help us with sorting during the fall harvest.  If you're interested, please email us for more information.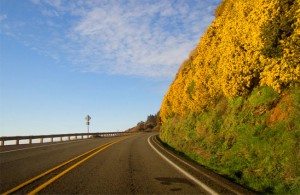 If you're looking for a scenic fall drive, there are plenty to choose from that are accessible from Oregon Wine Country.  Throughout the month of October will be your best chance to see stunning fall foliage in Oregon Wine Country. Take in Oregon's rugged and rocky coastline as you drive along the stunning Pacific Coast Scenic Byway.  Head north to see spectacular waterfalls, architectural gems, and magnificent overlooks of the Columbia River Gorge along the Historic Columbia River Highway.  Starting from the rich farmland of the Willamette Valley, head out on some beautiful scenic drives on the Over the River & Through the Woods Scenic Byway, then connect with the West Cascades Scenic Byway or the McKenzie Pass-Santiam Pass Scenic Byway where you'll see the highest concentration of snowcapped volcanoes.  For a drive that's closer to Oregon Wine Country, try The Vineyard and Valley Scenic Byway, which takes you through Tualatin Valley and Silver Falls State Park.  In addition to these great scenic Oregon Drives, we've put together some wine driving tours for you to explore throughout Oregon Wine Country, where you're sure to see the bright, vibrant colors of fall. Don't miss your chance to experience the splendor of an Oregon Wine Country fall; book your room at Youngberg Hill Vineyards and Inn today!