McMinnville History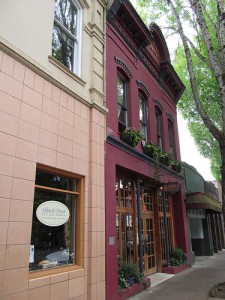 In a world full of fast-paced technological advances, sometimes enjoying the slower pace of life is the perfect way to relax and rejuvenate while on vacation.  Step back in time with us when you visit Historic downtown McMinnville, a town that began as a thriving agricultural center, and which is now located in the heart of Oregon's beautiful wine country.  McMinnville, where the 1800's meets the 21st century, is located in Yamhill County and has been called "Oregon's Favorite Mainstreet".  Our charming city was founded in 1843 by William Newby, and got its economic start from a Gristmill, which was located at the end of its 3rd Street historic district near the present-day city library.  Stroll down downtown McMinnville's historic district on 3rd Street, and you'll encounter a variety of modern businesses that include lodging, art galleries, restaurants and wineries.  The buildings that these businesses occupy were mostly built between the years of 1885-1912, and have recently been renovated and updated.  McMinnville is a city that cherishes good food, good wine, and the time spent enjoying both with friends and family.  If this is what you have in mind for your relaxing getaway, then book your stay now at the Youngberg Hill Vineyards and Inn, located just minutes away from beautiful, historic downtown McMinnville.
Big city amenities, small town charm
When you walk the 6 charming blocks of downtown McMinnville, you'll see a city rich in history and full of small town charm.  McMinnville is full of the modern amenities that you'd expect out of a larger city, without the frenzied fast-paced life.  The current growth of our city is thanks in large part to the thriving wine culture of the Willamette Valley wineries located in and around downtown McMinnville.  The stellar wines produced by our region have attracted visitors from around the globe, increasing the demand for exquisite cuisine and fine accommodations.  Recently, McMinnville was listed as the #2 Best Food Town in America by Bon Appetit Magazine.  Our historic downtown is home to a surprising array of eateries, from Italian food, Japanese sushi, pizza, coffee, ice-cream, salads, Spanish tapas, Mexican, fine French cuisine, and classic American fare. Continue your stroll along 3rd Street, and you'll stumble across a variety of businesses, including quaint boutiques, unique shops, and local galleries.  With a strong tradition of locally owned and independent shops, there is sure to be something for every shopper.
Some of the great buildings you shouldn't miss when you're in downtown McMinnville are the 1908 Elks Lodge building, the 4-story Hotel Oregon, and Buchanan Cellers, which was recently added to the National Registry of Historic Places.  There is a guided tour of these buildings, but it only takes place one time per year, on the first Saturday in March.  Hotel Oregon is now the home of McMenamins, an Oregon-based brewery and hotel chain with a history of renovating historic landmarks.  This beautiful building, originally built in 1905, was once home to a Greyhound bus depot, Western Union station, beauty parlor and soda fountain.  Today, it is home to a restaurant, rooftop bar, 42 hotel rooms, a cellar bar, and live music.  Hotel Oregon's Rooftop Bar may just be the perfect place to watch a summer sunset, enjoy a fine meal, and sample some amazing Oregon beer or wine.  With a relaxed downtown culture that appreciates the finer points in life, we know you'll love your time spent in historic McMinnville, and look forward to your stay in Oregon's beautiful wine country.