The hillsides along the Oregon corridor between McMinnville and Newberg are covered with vineyards; evidence of the thriving and world-renowned wine country found in Willamette Valley. Over the recent past, the tourism industry has excelled thanks in large part to this wine-driven notoriety. What was once a charming old farming town famous for its turkeys is now a thriving foodie destination. Dining in downtown McMinnville is an experience nothing short of amazing. The surprising variety of cuisine available in this charming downtown includes sumptuous Italian dishes, Japanese sushi, Spanish tapas, Mexican dishes, fine French cuisine, and classic American fare. Everyone loves great food. Pair that great food with world-famous wines, and you have a recipe for perfection, recently leading McMinnville to be hailed as the second best foodie town in America by Bon Appetit magazine. With a reputation like that, we can assure you there is no shortage of delectable culinary delights awaiting you in McMinnville. Don't miss your chance to explore this charming foodie paradise, and book your stay at Youngberg Hill Vineyards and Inn now.
Fall is the perfect time to come sample some of our wonderful McMinnville dining. We can't think of a better way to start off your McMinnville dining experience than by joining us at Bistro Maison, a classic French bistro in the heart of McMinnville's historic downtown. On September 22nd, Youngberg Hill Vineyards will be featured at Bistro Maison during their Fall Harvest Dinner. Serving items such as a hearty Boeuf Bourguignon, savory fromage, and a delicious pear galette, this food and wine-pairing event is sure to be an unforgettable culinary experience. If you want to experience the agricultural bounty of the Willamette Valley, head over to Thistle, where they create a menu based on fresh, local ingredients. If you're up for a true dining experience, then let the chefs at Thistle choose your multi-course menu for you.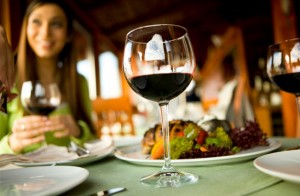 You can spend days exploring your options when it comes to McMinnville dining. If you find yourself in downtown McMinnville in the afternoon, stop in at La Rambla for their Tapas and happy hour. La Rambla is a Spanish restaurant that specializes in tapas, including the signature fried green beans, beef and pork meatballs in smoky sofrito, garlic-chili shrimp, and crispy, fried potato wedges. Stop in for some of the fine-crafted ales and lagers available at Golden Valley Brewery, and stay for their equally impressive menu selections. For another unique dining experience in the McMinnville area, stop in to the Joel Palmer House in neighboring Dayton, where great Oregon wines are paired with dishes that revolve around locally harvested wild mushrooms and truffles. Another staple on the McMinnville dining scene is Nick's Italian Cafe. For a menu that showcases the simplicity and quality of local ingredients, don't miss a meal at The Painted Lady in Newberg, which of course pairs its meals with the fine wines of the Willamette Valley. All of these wonderful McMinnville dining experiences and more are at your fingertips when you stay at Youngberg Hill Vineyards and Inn.