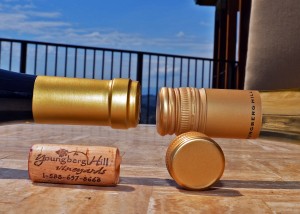 The answer: It depends.
As a purist, who received his wine indoctrination in France, I believe there is no substitute for cork. That answer is based on the intent for wine to be cellared for decades, easy access to cork in France, minimal concern for recycling, and most wine being consumed locally.  Cork has the benefit of being a slow emitter of oxygen into the bottle over a long period of time. The risk is that cork can sometimes have a bacteria that will cause the wine to go bad over time. That risk is small (2-3%) and getting smaller as suppliers are getting better at detection and cleaning.  However, one customer opening one tainted bottle is one too many for me. And if the customer lives far from the winery, replacement is also expensive.
From an engineering perspective, screw caps are a no-brainer. They provide a cleaner, safer closure than cork. Therefore, I am confident that when anyone opens a bottle of our wine anywhere in the world, if it has been handled properly, it will be as good or better than when it went into the bottle. There is good data to suggest that screw caps also allow a minimal amount of oxygen into the bottle for aging. However, research indicates that fewer than 10% of bottles purchased are cellared for more than one year, so aging is much less of a concern. Screw caps are arguably more environmentally sustainable, and when they are recycled they have a lower carbon footprint than cork.
When we bottle our wine at Youngberg Hill, different aspects of quality come to my mind.  My first concern is that when anyone opens a bottle of Youngberg Hill, it has to be good; therefore the screw cap wins. Next is the environment, with many arguments on both sides, but sustainability favors the screw cap. Third is the matter of aging, and given the purchasing and cellaring habits of today's wine lovers, this is just not an issue, so cork is not necessary.
To be continued.