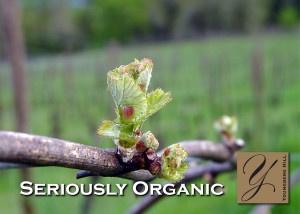 STAR DATE April 22nd, 2012:  We saw the first evidence of bud break; the first event of the grape growing season, when the new buds break open, and the first leaves and shoots begin to grow.  April 21st and 22nd were our first truly warm days of the year – over 70 degrees.  Because it was already late April, the vines had pent up energy and were ready to burst with the advent of some warm sunshine.  So last Monday morning as I took my early walk through the vineyard, I was thrilled to see that overnight the vines had exploded with new leaves.
Why is this so exciting?  First, it is the beginning of the grape growing process.  This is what life on Youngberg Hill is all about!  Second is the timing – after two years of very late seasons, seeing life begin on the vines in the third week of April causes great expectations as to what the vintage might bring.  Everything for the rest of the season is more or less determined by when bud break occurs.  We still have six more months of nurturing and coaxing, by us AND the weather, before we have fruit in the barn and can declare it a successful vintage. But with a more timely bud break, and warmer weather predicted for May, it is cause for excitement.  Last year, by the end of June, we had had only four days of temperatures reaching or exceeding 70 degrees.  As of today, we have already had three days above 70.
Don't misunderstand – I am not anticipating a hot year, nor am I hoping for one.  Because I am influenced by the French style of winemaking, and because of where our vineyard is located, I much prefer a cooler growing season.  That said, gathering grapes in October is preferable to a November harvest.
Based on your experience with wine, which type do you prefer? A hot vintage that tends to be bigger, more fruit forward, and higher in alcohol; or a cooler vintage that is more elegant, balanced in fruit and earth flavors, and lower in alcohol?
CHEERS TO 2012!