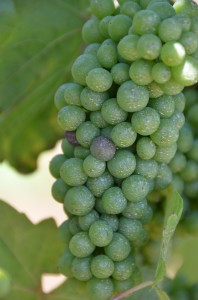 Veraison is the ripening process as wine grapes change color from green to a deep blue purple. This color change typically takes place in late August/early September, but with this year's late spring, we have not yet seen much change. There are many other changes taking place in the grapes as they are ripening and all are important to the development of the fruit and the resultant wine.
As the color is changing, we are able to identify fruit that is most likely not going to ripen or will not ripen when a majority of the fruit will and best to cut off so it is not picked at harvest time. During this time the sugar content (brix)of the grapes is increasing, ph (acidity) is decreasing, and tartaric acid is going down. These three quantifiable measures help gauge the ripening of the grapes. We are also looking at more subjective measures such as the seeds to see how they are turning from green to brown, the consistency of the pulp to see that it is losing its firmness and adherence to the seed, and, of course, the flavors. Every vintage is different. Some years, the flavors tend to set in earlier during the ripening of the grapes and then there are years when the flavors do not begin to show up until the very end. Even if all other elements are where you want them, if the flavors are not there, they will not be in the wine.
So as the grapes are starting to ripen, everything is dependent on Mother Nature, specifically the weather. It is very important to have dry sunny days that are not too hot. October makes or breaks a vintage in the Willamette Valley, especially for Pinot Noir. We need that time on the vines to ripen the fruit to its full potential. At the same time, the weather is changing.  Rain showers start to come in from the ocean. They may be just a short drizzle or a day long pouring. If it only lasts a day or so, it will be fine as long as we have some sunny dry weather following. We are constantly watching the weather patterns out in the Pacific to determine what to anticipate for weather and whether to hold tight and hope that the weather passes, or decide to harvest fruit while it is dry.
It is an anxious time, waiting. When the decision is made to harvest and the day arrives, it is very exciting to bring the fruit in from the vineyard into the winery. To see and feel the the fruit of your labor since January come safely into the winery, is both a relief and pride. When driving back to the vineyard at the end of the day, however, while it has been filled with anticipation and excitement, there is a little let down when I see the vines naked of fruit that I have nurtured all summer long.